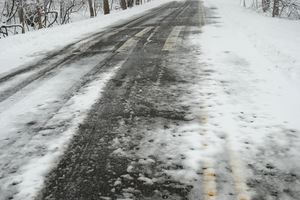 As our personal injury lawyers know all too well, winter weather conditions can make roadway travel dangerous for drivers here in Missouri and throughout the United States. However, snowy or icy roads can be especially treacherous for large commercial vehicles like buses. Because of their size and weight, buses require much more time and space to stop than passenger vehicles do, and because of their height, buses are more prone to rollover accidents. These factors, when combined with inclement weather, can lead to catastrophe.
On Sunday, nine people were killed and at least 26 more were injured when a charter bus skidded off an icy highway in eastern Oregon. According to KOMO 4 TV in Seattle, the bus was traveling west on the interstate when the driver lost control and struck a concrete barrier. The bus then veered across two lanes of traffic, drove through a guardrail, and rolled 200 feet down an embankment.
More than a dozen rescue workers descended into the embankment, using ropes to free passengers from the wreckage. Survivors told authorities that some passengers were ejected through broken windows. Of the 26 people transported to a nearby hospital, several were immediately airlifted to other medical facilities with serious injuries.
An investigation of the accident continues. Law enforcement officials say it could be a month or longer before they determine whether or not any charges will be filed against the driver. It is not yet known how fast the bus was traveling when the accident occurred, but one passenger told The Oregonian that he was concerned about the bus's speed. "I felt like he was going too fast," 25 year-old Yoo Byung Woo said. "I worried about the bus."
Update, 1/9/13: The Federal Motor Carrier Safety Administration (FMCSA) has ordered the Canadian-based charter bus company, Mi Joo Tour & Travel, to halt all passenger service in the United States. FMCSA officials say the company "failed to take basic measures to ensure that its drivers are properly rested for safe vehicle operations and has established a pattern and practice of scheduling and dispatching drivers on trips without regard to hours of service requirements." The bus driver had reportedly been on duty for 92 hours within an eight-day time period - the federal limit is 70 hours. In addition, two passengers have filed a personal injury lawsuit against the company.
Here in Missouri, winter weather is expected in the days and weeks ahead. When driving in these conditions, we encourage you to use extra care when traveling near buses and other large commercial vehicles. Don't follow too closely, and be especially cautious when passing. Taking these precautions can help you avoid involvement in a serious accident.
The personal injury lawyers at Aaron Sachs & Associates, P.C. represent people who suffer injury in Missouri bus accidents. If you've been injured in a collision involving a large commercial vehicle, we may be able to assist you. Our firm works on a contingent-fee basis, and we offer a free initial consultation. If you'd like to schedule an appointment to speak with an attorney about your case, please call us toll-free at 1-888-777-AUTO, or visit our website. Offices in Springfield, Joplin, Columbia, Cape Girardeau and Kansas City.
Attorney meetings by appointment only