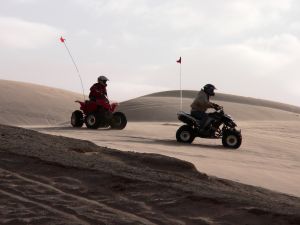 A catastrophic death occurred Monday afternoon, July 18th, in southeast Missouri. A young boy from Portageville, MO was riding an all-terrain vehicle (ATV) on a field road. The 8 year-old was killed after the ATV he was driving left the field road and the young boy drove into the path of an oncoming pickup truck on county road 417 about 1 mile south of Highway 162 in New Madrid County.
In light of this tragic accident, the New Madrid accident lawyers want to remind everyone of the dangers that ATVs can pose and share both safety tips for ATV use and Missouri laws governing ATVs.
According to the U.S. Consumer Product Safety Commission children under the age of 16 are involved in about 30% of all ATV accident related deaths. They are twice as likely to be involved in an accident, particularly when riding on an adult sized ATV. And from 1982 until 2009, 67 children under the age of 16 have been killed in an ATV accident in the state of Missouri alone.
New Madrid Accident Lawyer ATV Safety Tips:
Take a formal safety training course. An ATV is a heavy piece of machinery and involves high speeds, with a formal, hands on training course you can greatly improve your ability to ride safely and improve your enjoyment. The best way to avoid an ATV accident is to take the proactive measure of a rider training course.
Always wear protective gear, especially a helmet. But also include goggles, gloves, long pants, a long-sleeved shirt and a pair of boots that cover you ankles. Road debris, weeds and grasses, often kick up while riding, these items offer protection.
Do not drive with a passenger. Nearly all ATVs are designed for one person. They are also designed for interactive riding. This means a person must be able to shift their weight in any direction to maintain control as well as vehicle balance and stability. Catastrophic injury or death often occurs because the rider loses control of the ATV.
Do not drive on paved roads. ATVs are designed for off-road use. They are harder to steer and operate on pavement. Also they should not be operated at the higher speeds required on paved roads. ATVs are not designed for driving in traffic and are harder to maneuver. These factors alone increase the risk of a traffic accident.
Missouri Laws for ATVs:


No ATVs are permitted on a Missouri highway unless for governmental, agricultural, or industrial purposes and unless on the owner's property. This means any public roadway and includes gravel roads


ATV must have bicycle flag, headlights and taillights, and a properly working braking system.


No one under the age of 16 may operate and ATV without adult supervision or unless on the parent's or owner's property.


A helmet is required for anyone under the age of 18, and highly recommended for all riders.


An ATV may not be operated in a careless way that could endanger another person.


An ATV may not be operated while under the influence of alcohol or controlled substances.


No passengers are allowed, except for agricultural purposes and on an ATV specifically designed for a passenger.


All ATVs must be titled and registered. Registration must be renewed every 3 years. No one under 16 may register an ATV.


 
While ATVs can pose a risk of catastrophic death or traumatic injury, they are an enjoyable recreation and useful tool for off-road activities such as agriculture, industry and special events. With this in mind, New Madrid accident lawyers highly recommend a formal training course. ATV Rider Course from the ATV Safety Institute provides a half-day safety course which includes pre-ride inspections, safe handling, and emergency stops.
For more information visit Aaron Sachs & Associates, PC .