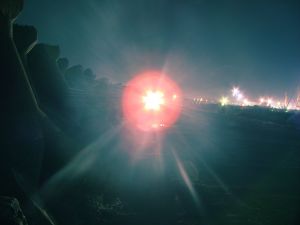 As Columbia car accident lawyers, we know that all kinds of collisions carry the potential for injury to motor vehicle occupants. However, head-on collisions can be particularly dangerous: in fact, even though they represent a mere two percent of all U.S. motor vehicle crashes, head-on collisions account for as many as 10% of fatal auto accidents.
Head-on collisions generally occur when one driver inadvertently crosses the centerline, or attempts to pass another vehicle on a two lane road. According to statistics from the Fatal Analysis Reporting System:
75 percent of head-on crashes occur on rural roads,
75 percent of head-on crashes occur on undivided two-lane roads, and
83 percent of two-lane undivided road crashes occur on rural roads.
Of 7,430 vehicles involved in head-on crashes on two-lane, undivided roadway segments, only 4.2 percent involved a vehicle attempting to pass or overtake another vehicle.
23 percent of fatal head on crashes on two-lane, divided roads are related to failing to properly negotiate a curve.
The FARS data indicates that most head-on collisions result from "unintentional maneuvers" (for example, distracted driving, falling asleep at the wheel, or traveling too fast in a curve). Other contributing factors include driving under the influence and speeding. All too often, these accidents prove to be deadly, commonly resulting in serious, life threatening injuries. Victims may sustain traumatic brain injuries, spinal cord injuries, broken bones, concussion, internal organ injuries, and even the loss of a limb. (Interestingly, whiplash is usually the result of being rear-ended, not of head-on collisions.) If you have been injured in a head-on collision, getting the proper medical treatment should always be your first priority - even if you think you're not hurt. Symptoms of certain kinds of head injuries may not appear for hours - or even days - following a crash.
However, it's also important that you protect yourself and your rights. If the accident resulted from another party's negligence, you may have a claim for a personal injury lawsuit, which can help you recoup your lost wages, medical expenses, and other damages. The car accident lawyers at Aaron Sachs & Associates, P.C. can help you understand the full scope of your rights and options, and see that adequate compensation is recovered for your damages and losses. Injured victims or their families may be entitled to financial compensation for various factors, including:
Medical bills
Lost wages/lost future wages
Physical pain and emotional suffering
Disfigurement
Diminished quality of life/disability
Burial expenses in the case of wrongful death
The car accident lawyers at Aaron Sachs offer a no-cost, no-pressure initial consultation to assess your car accident or wrongful death case. No two cases are the same--our goal is always to establish a strong working relationship with each client, so we can best address their individual needs. Call us today to get the answers and assistance you need. You can reach us toll-free at (888) 287-1046. For your convenience, we are available 24/7/365. Attorney meetings by appointment only