The unpredictable nature of car accidents is something Joplin car accident lawyers hear about on a daily basis. No matter how defensively or alertly one drives, no matter how many airbags and other safety features one's vehicle contains, lives can be forever changed in an instant by a serious car accident.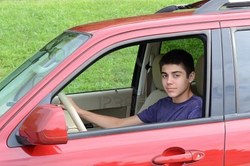 It is a sad fact that a few feet can make the difference between life and death on Missouri's roadways. When you are dealing with vehicles weighing thousands of pounds, speed, and human error--that is simply a dangerous combination. No amount of legislation, new car design or highway patrol presence can ever make driving completely safe.
Consider the amount of car accidents that happen because one driver slowed or stopped, and the driver behind either wasn't paying attention, or didn't have the reflexes to stop quickly enough. Or the amount of accidents that occur yearly at Missouri's intersections, simply because people misjudge the amount of time they have to get safely through, and are hit by an oncoming vehicle. Driver error is the main causative factor in most car accidents, and nowhere is it more deadly than in the "crossing the center line" type of accident.
This type of accident caused the death of a Granby man on Highway 59, in a three vehicle accident on Dec. 1st. The Missouri State Highway Patrol's online traffic crash report states that a southbound Cadillac with a sixteen year old driver at the wheel crossed the center line, and hit a northbound dump truck head on. The force of the collision caused the dump truck to veer off the road and overturn. Debris from that truck struck another northbound vehicle, but that driver was uninjured.
The driver of the dump truck was pronounced dead at the scene by the Newton County coroner, and the teen whose mistake caused the accident was taken to Freeman Hospital West in Joplin with serious injuries. He was also tested for alcohol use, but the results were not listed in the report.
The Highway Patrol's Troop D reports this as their 102nd fatality of 2011.
In a sad situation such as this, the Highway Patrol will make every effort to discover all the causes of this accident. Although we don't know if alcohol was indeed a factor, there are many other reasons this tragedy might have occurred.
Teen drivers have a high rate of car accidents for a variety of different reasons:
1. Distracted Driving: such as by using a cell phone or texting, (which is illegal for drivers under 21 in Missouri)
2. Traveling too fast for road conditions: many teen accidents are caused by either going above the speed limit, or driving too fast for weather or road conditions.
3. Simple inexperience: not enough time behind the wheel to have good control of the vehicle, form good driving habits, or really get the responsibility of their role as a driver of a potentially deadly, 4,000 pound vehicle.
Parents, if your teens have just learned to drive, make sure they get a lot of time behind the wheel with an experienced driver supervising, so that they are comfortable in all sorts of driving situations. Just because they were able to pass the driving test does not make them fully competent drivers. The high rate of teen driving accidents proves this point.
If you or a loved one has been hurt in a Joplin car accident caused by another party's negligence, you may have grounds for a personal injury claim. Call the Joplin car accident lawyers at Aaron Sachs & Associates, P.C. today for a free initial consultation about your accident. We're here to help.
Attorney meetings by appointment only