After a Kansas City, Missouri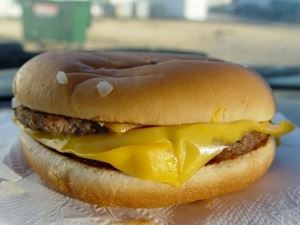 couple experienced a car accident caused by eating in the car, the Kansas City Missouri car accident lawyers thought it was a good idea to review the facts about distracted driving and what kind of impact it can have.
Eating and Driving Accident
The car accident happened on Sunday, November 20, 2011 around 11 a.m. The couple was driving on U.S. Highway 71 about a mile north of Anderson in southwest Missouri. The driver, a 75 year old man, started choking on a piece of food, lost consciousness, ran off the road, and hit an embankment. He and his wife were taken to St John's Mercy Hospital in Joplin with moderate injuries. Their Chrysler van suffered extensive damage and had to be towed.
Eating in the Car: What's the Big Deal?
When we think about distracted driving, most of us think of the cell phone and text messaging. To most people, the dangers of texting and driving are obvious. But as the above accident shows, texting is not the only dangerous distraction.
Distracted driving is defined as any non-driving activity that takes your focus from the primary task of driving. Distracted driving can be disastrous and it only takes a few seconds of distraction to lead to a car accident. The following are the major activities that constitute distracted driving.


Using a cell phone for talking or texting


Eating and drinking


Talking to passengers


Fixing hair, makeup, shaving, or other grooming


Reading, including maps


Using a PDA or a navigation system


Watching a video or trying to set one up for someone else


Changing the radio station, CD or other player


Checking the internet for directions or other information


There are three main types of distraction. They are visual: you take your eyes off of the road, your mirrors, your dashboard, or the traffic around you. Or they are manual: you take your hands off of the steering wheel or reach for something with your foot. Or they are cognitive: your mind is taken off the focus of safe driving.
The most dangerous of the distractions encompasses all three: your eyes might be on the road, but if your mind is not, you might as well be driving with blinders on.
So what is the big deal about eating in the car? Think about it. One hand, sometimes two, is engaged in holding the food and bringing it to your mouth. Your eyes keep traveling to your food to see where it is and to make sure you haven't dropped any on your shirt or your lap. And your mind is concentrating on juggling two activities at the same time. Either activity might be easy on its own, but put them together and your focus is drastically reduced and you are less able to do either.
Car accidents happen all the time. By adding food to the equation you are greatly increasing the chances that you will lose focus, lose control, or your slowed reaction time will cause you or someone else to lose their life.
Eat in the restaurant, the parking lot, a park on the way, or before you leave. Give yourself the chance to enjoy your snack or your meal, and at the same time create a better probability of avoiding a car accident.
The Kansas City Missouri car accident lawyers handle car accidents that result from distracted driving all the time. For more information about what to do after an accident, call 1-888-777-AUTO (2886).
Attorney meetings by appointment only