Almost everyone loves to cool off in the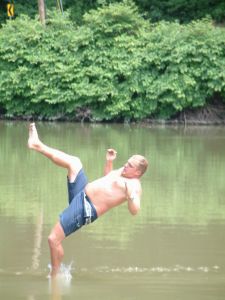 water. And as Southeast Missouri continues to experience high heat and humidity, Cape Girardeau, Jackson, Perryville and surrounding areas remain under excessive heat watches from the Weather Service. Southeast Missouri Accident Lawyers want you to stay as cool as possible, but also want to remind you of the dangers of high heat combined with cooling off in pools and lakes.
From the Weather Service, an excessive heat watch means a prolonged period of hot temperatures combined with high humidity. These conditions create an increased danger of heat exhaustion and heat stroke which can both lead to death.
To help you better protect yourself, we offer the following information.

These factors influence drowning:



Lack of supervision





2 out of 10 people who drown everyday are children aged 14 or younger. It is important to supervise children in the water.


Many people over-estimate their abilities in water, a life guard or designated water-watcher will reduce the danger.





Natural water settings





65% of drownings of those 15 and older occur in natural water settings.


Currents change, water levels change, and entanglements are possible. We encourage the use of personal floatation devices.





Personal floatation devices





9 out of 10 people who drown in natural water settings were not wearing a life jacket.


Use water wings for toddlers and life vests or jackets for everyone else. Even if you know how to swim.





Alcohol use





Alcohol is involved in half of adolescent and adult drownings.


Alcohol impairs judgment and dehydrates you even further. It is better to avoid alcohol during high heat conditions.





Medical conditions





Seizure disorders as well as other medical conditions can increase the risk of drowning.


If you have a medical condition which could lead to unconsciousness or a semi-conscious state, swim with a buddy or in a life-guard protected area.


According the Center for Disease Control (CDC) 10 people drown nationwide every day. 70 people have died since Memorial Day. With this in mind we urge you to remember the dangers of water, particularly for toddlers, but also children 14 and under and the elderly. With high heat conditions fatigue can set in sooner. Playing in the water is fun but also fatiguing. These two factors combined can lead to misjudging how tired you are. People stay in the water longer than they should and then are too tired to save themselves.

Jackson Accident Attorneys Offer Tips From The CDC to Stay Cool:



Stay cool indoors.


Drink plenty of fluids.


Replace salt and minerals.


Wear appropriate clothing and sunscreen.


Schedule outdoor activities carefully.


Pace yourself.


Use a buddy system.


Monitor people at high risk.


Adjust to the environment.


Do not leave children in cars.


Use common sense.


Cape Girardeau Accident Lawyers say that these precautions as well as formal swimming lessons are great ideas to keep in mind for all water activities. It is also a good idea to have CPR certification. The American Heart Association offers certification courses all the time, we urge you to take one of these courses.
For more information or to consult one of Southeast Missouri's accident lawyers contact one of our local offices. We offer free consultations for personal injury and wrongful death.
Attorney meetings by appointment only