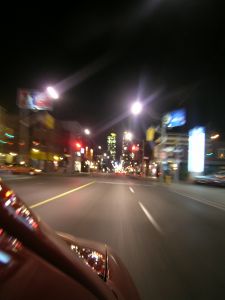 As Missouri car accident lawyers, we know that alcohol is a leading contributing factor in many serious crashes throughout the state - crashes that often cause injury to innocent motorists who just happened to be in the wrong place at the wrong time. And yet many drivers still choose to get behind the wheel after they've been drinking. The consequences of this dangerous choice can be devastating.
Recently, a Missouri woman was charged with multiple criminal offenses after she allegedly drove drunk and caused two separate accidents last October, one of which left another driver seriously injured. The St. Louis Post-Dispatch reports that 44 year-old Terri Blachek has been charged with two counts of felony assault while intoxicated resulting in injury, two counts of misdemeanor assault, and one misdemeanor count of careless and imprudent driving. Authorities say Blachek was driving south in the northbound lanes of Highway 40/61 on when she struck another vehicle head-on.
The other driver, 61 year-old Steven Fleming, suffered multiple injuries in the crash, including several broken bones, a fractured femur and rubs, a tear in his left lung, and multiple cuts and abrasions. A passenger, 34-year old Ryan Fleming, suffered moderate injuries in the crash. In addition, prior to the head-on collision, Blachek had reportedly swerved to avoid hitting another northbound vehicle, forcing that car into the ditch.
Blachek was also seriously injured in the accident: she and Steven Fleming were airlifted from the scene, while Ryan Fleming was taken by ambulance. According to responding officers, Blachek was unresponsive following the crash, but a bottle of vodka was found in her passenger floorboard. Her blood alcohol content was later found to be 0.149%, nearly twice the legal limit.
How is driving performance impacted by alcohol use?
• Concentration: Reduced ability to focus on multiple driving-related tasks at the same time
• Comprehension: Reduced ability to recognize situations, signs and signals that indicate a roadway emergency is present; and to respond to that emergency quickly, safely and appropriately
• Coordination: Marked deterioration of motor skills, physical capacities and senses, including muscle control and vision
• Judgment: Reduced ability to make reasonable, responsible decisions (which presents itself at BACs as low as 0.02%)

Accordingly, a driver's risk of causing a fatal crash climbs right along with his or her blood alcohol content. Drivers with BACs at the legal limit of 0.08% have a significantly higher crash risk than drivers with BACs of 0.00%:
• Drivers between age 16 and 20: 10 times more likely to cause a fatal accident
• Drivers between age 21 and 34: 7 times more likely to cause a fatal accident
• Drivers age 35 and older: 6 times more likely to cause a fatal accident
The Missouri Highway Patrol reports that alcohol was a contributing factor in 26.8% of 2011 fatal crashes. Throughout the year, 304 people were killed and an additional 11,096 were injured in accidents involving an impaired driver.
Aaron Sachs & Associates, P.C. is a personal injury law firm representing car accident victims throughout southeast Missouri. Our firm offers a no-cost, no-obligation consultation to discuss your case and answer your questions. Contact us today to find out if we can help: call us toll-free at 1-888-777-AUTO, or click here to submit our convenient online form. Serving clients in Cape Girardeau, Marble Hill, Poplar Bluff, Kennett, Charleston, New Madrid, Perryville, Sikeston, Ste. Genevieve and Caruthersville.
Attorney meetings by appointment only