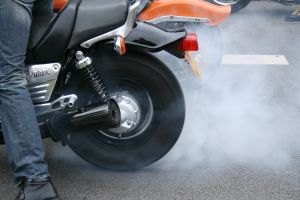 Warm weather is on the way, and our Missouri personal injury lawyers thought it might be a good time to remind motorists about the importance of sharing the road with motorcycles. A significant number of fatal motorcycle crashes are caused by some form of driver error: in fact, more than 40% of all fatal motorcycle crashes occur when another driver turns left in front of an oncoming motorcycle. And, unfortunately, motorcycle accidents like these are not uncommon: in fact, they're on the rise. Consider these statistics:
• According to the National Highway Transportation Safety Administration (NHTSA), people are 37 times more likely to die in motorcycle accidents than auto accidents.
• A 2012 study by the Centers for Disease Control and Prevention (CDC) revealed that there has been a 55% death rate increase in motorcycle fatalities since 2000.
• In 2010, 4,502 people were killed in motorcycle accidents nationwide.
In recent years, the population of motorcyclists has increased dramatically on roadways throughout the country. The Motorcycle Industry Council data has seen a drastic jump in the number of motorcycles registered in comparison to previous years. Many analysts believe that the economy factors in to this increase, with motorcycles offering motorists a less expensive mode of transportation.
More bikes on the road, however, can mean more crashes. Motorcycle accidents commonly result in injuries and fatalities, especially when they involve other passenger vehicles like cars and truck. Because of the way motorcycles are designed, riders are more exposed to the elements and therefore more vulnerable to serious injury.
Also, a motorcycle's size often factors in to passenger vehicle collisions. Since they are considerably smaller than other vehicles, motorcycles can be less visible to drivers of passenger cars and trucks. To avoid these fatal crashes, riders need to take certain steps to ensure they are seen by other motorists.