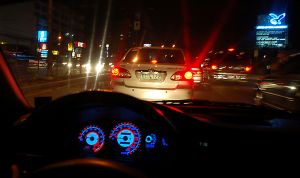 When drunk drivers cause car accidents that injure innocent Missouri motorists, they may face numerous criminal charges and penalties associated with the accident. In addition, they may be subject to personal injury or wrongful death lawsuits that allow accident victims to recover compensation for their damages and losses. And, as our Springfield personal injury lawyers know, such losses can be immense.
Recently, an Alabama jury awarded more than $40 million to the family of a church music minister who was killed in a 2009 crash caused by a drunk driver. According to The Birmingham News, the award was granted in a wrongful death lawsuit filed by the widow and young son of 35 year-old Derric Rush, who was driving home from a Wednesday night church service when his vehicle was rear-ended and forced into a concrete barrier. Authorities say the other driver, 39 year-old James Kendrick, had been drinking in a nightclub parking lot and then continued drinking inside the nightclub in the hours before he decided to get behind the wheel. Kendrick was traveling over 100 miles per hour when he struck Rush's vehicle. His blood alcohol content was later found to be between 0.14 and 0.18%.
In addition to Kendrick, the lawsuit also named the nightclub, Club Volcano, as a defendant. Rush's family alleged that Kendrick and a companion "consumed most of a 750 ml bottle of Crown Royal liquor while sitting in a parked vehicle in the parking lot on the premises of the defendant, Club Volcano. Both of these men became intoxicated. It is believed that this practice was known, condoned and allowed by Defendant Club Volcano." A jury found in favor of the plaintiffs, ruling that the club must pay $37 million and Kendrick must pay $3.25 million in damages suffered by Rush's surviving family members. In 2011, Kendrick was also convicted of reckless manslaughter and is currently serving a 12 year prison sentence.
In the majority of wrongful death and personal injury cases involving drunk drivers, Missouri law follows "the common law rule that furnishing alcoholic beverages is not the proximate cause of injuries inflicted by intoxicated persons." However, accident victims may be permitted to take legal action against establishments that serve alcoholic drinks for consumption on the premises if one of two conditions applies:
• The seller "knew or should have known that intoxicating liquor was served to a person under the age of twenty-one years"; or
• The seller "knowingly served intoxicating liquor to a visibly intoxicated person."