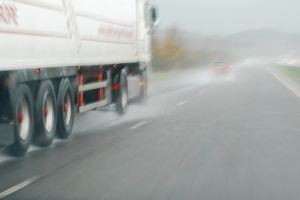 As Missouri personal injury lawyers, we know that semi-truck accidents commonly have disastrous consequences for the occupants of smaller vehicles. Pedestrians, however, are even more at-risk for fatal injury when they're involved in collisions with semis, because they're completely unprotected from the immense force of impact. In this post, we share some tips to help pedestrians avoid collisions with these massive commercial trucks.
• Use designated walkways whenever they are available. When traveling on foot, stick to the sidewalk, and if you absolutely must cross a busy roadway, do so at intersections or crosswalks. Also, allow extra distance between yourself and the road as you stand on corners while waiting to cross. Because of their size, large truckers have to make wide right turns, and it's common for them to ride up on the corners of sidewalks. If a truck driver is distracted or impaired, these wide right turns can pose an even greater threat to pedestrians. Make sure you're as far out of harm's way as possible.
• Avoid lingering in truckers' blind spots. Semi-trucks have several oversized blind sports (also known as "No Zones") that make it extremely difficult for truck drivers to see other vehicles around them - and pedestrians are at an even greater disadvantage, because they're even smaller and more difficult to see. You should always assume that a trucker can't see you, and act accordingly to protect yourself from a collision. In particular, avoid walking behind a truck when it's backing up - semi- trucks don't have rearview mirrors, so if you can't see a truck's side mirrors, the driver almost certainly can't see you.
• Take steps to make yourself more visible to other truck drivers. Especially when walking at night, wear brightly colored clothing and reflectors to make yourself more conspicuous to passing truck drivers. Carrying a flashlight can also help increase your chances of being seen.
• A significant number of accidents cause life-threatening injuries to "highway pedestrians," or motorists who are left stranded when their vehicles break down on busy roadways. If you find yourself in this predicament, pull your vehicle as far right as possible, stay inside the car, turn on your flashers and call for help. If your vehicle can't be moved, turn on your flashers, move as far away from the roadway as possible and wait for authorities to arrive.
• Never assume a trucker will stop for you. Don't forget that loaded tractor trailers require 20 to 40% more room to stop than a passenger vehicle (and they need even more room if roads are wet or slippery or if the truck's brakes are poorly maintained). Avoiding crossing into the path of an oncoming truck, even if you think you have the right of way or you think the trucker sees you. Unfortunately, even if a trucker sees you, he or she simply may not be able to stop in time to avoid a collision.
At Aaron Sachs & Associates, P.C., our semi-truck accident lawyers represent injury victims throughout the state of Missouri. If you've been injured in an accident caused by negligent or careless truck driver, you may have legal rights that entitle you to compensation for your losses and damages, and we encourage you to seek advice from an experienced attorney. Our firm works on a contingent-fee basis, and we offer a free initial consultation to discuss your case. To schedule an appointment, call 1-888-777-AUTO, or submit our convenient "Do I Have a Case?" form via our website.
Attorney meetings by appointment only