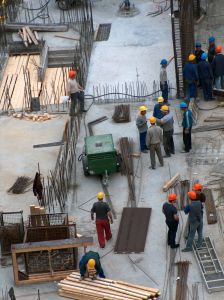 Missouri workers' compensation law exists to protect and support employees who are injured in the course of their employment. However, when businesses don't hold up their end of the bargain, innocent workers are left to face the many consequences of their injuries, which can include numerous medical expenses, lost wages, and the inability to return to work.
Recently, a state audit conducted in North Carolina revealed that the state's Industrial Commission has failed to recognize and address a growing problem: "businesses openly skirting their responsibility to carry [workers' compensation] insurance." The audit followed a three part series published in 2012 by the Charlotte News & Observer, which exposed the consequences of these illegal practices and their impact on both injured employees and other honest employers who comply with state law.
In part, the News and Observer's series highlighted the story of Clemente Hernandez Gonzalez, a North Carolina construction worker who was injured on the job in March 2009. Gonzalez was a passenger in a company vehicle when the driver fell asleep at the wheel and crashed. As a result, Gonzalez suffered a spinal cord injury that left him paralyzed from the chest down. The Observer reported that the estimated cost of Gonzalez's lifetime medical treatment is nearly $8 million.
State workers' compensation systems exist to protect employees in circumstances just like this one. However, following the accident, Gonzalez discovered that his employer, Worrell Construction Co., had taken advantage of a loophole in state law. In North Carolina, businesses that employ three or more workers are required to carry workers' compensation insurance. To skirt this requirement, the owner of Worrell Construction purchased what is known as a ghost policy.
Ghost policies are intended for business owners who have no employees and who opt to exclude themselves from workers' compensation coverage. These cheap policies are supposed to cover a "future" employee who may be hired in the coming year. For the first nine years Worrell Construction was in business, the company paid about $30,000 a year for full workers' compensation coverage. Then, in 2006, Worrell reclassified its employees as "subcontractors," told an insurer it had no employees, and purchased a ghost policy. The yearly premium for that policy? A mere $850.
General contractors require subcontractors to present proof of workers' comp coverage before beginning a job. But the News & Observer says the certificates for ghost policies "look no different from other policies, however, and are tough, if not impossible, for those hiring the company to detect." Thus, the business saves thousands of dollars, and no one is the wiser. That is, unless an employee - like Gonzalez - is injured on the job.
Gonzalez's existing medical bills already exceed $250,000, and he has not yet received a dime. He is currently involved in litigation against Worrell; Worrell's insurer, Cincinnati Insurance; and Patrick Lamm, a general contractor who hired Worrell. Lamm says he had no idea Worrell did not have full coverage. Worrell shut down on the day of Gonzalez's accident, and the North Carolina Industrial Commission will charge the company with criminal fraud if it attempts to resume operations.
And there's another consequence of this kind of legal loophole. Companies that pay tens of thousands for workers' comp coverage can't compete with cheating businesses that pay significantly less in insurance premiums. According to the News & Observer, "those who play by the rules say they struggle to stay afloat while competitors who break the law profit."