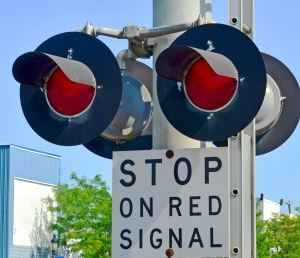 As Columbia auto accident lawyers, we know that collisions involving passenger vehicles and trains are often deadly. Research indicates that passenger vehicle occupants are 40 times more likely to be killed in train/vehicle collisions than in accidents involving two passenger vehicles. Sadly, around two-thirds of these crashes "occur during daylight hours, in crossings equipped with automatic warning devices."
Recently, two young children were killed when their mother attempted to drive around lowered crossing gates at an Iowa railroad crossing, causing the family's minivan to be struck by an oncoming train. Police say 25 year-old Tara Lewman had initially stopped at the crossing, where a freight train was stopped on the tracks. Ultimately, however, Newman drove around the crossing's lowered gates and pulled in front of the stopped train, apparently unaware that another set of tracks ran parallel to the tracks where the freight train was stopped. The stopped train reportedly obscured Lewman's view of an oncoming train on the second set of tracks, and her van was struck on the passenger side, killing two of her three children, 4 year-old Erika Clark and 5 year-old Kallie Clark. Lewman and another daughter, 1 year-old Jordan Clark, were also injured in the collision: Jordan Clark remains hospitalized, but Lewman has since been released.
In the wake of this tragic accident, the Iowa Highway Patrol's Sergeant Scott Bright reminded drivers of the importance of yielding to gates, lights and other warning signals at railroad crossings. "They're down for a reason. People need to stop and wait until the cross buck goes back up and then proceed," Bright told KCCI News.
Auto accidents and railroad crossings: A few facts and statistics
• Nationwide, there are over 210,000 railroad crossings, according to the Angels on Track Foundation. Of that number, nearly 130,000 intersect with public roadways.
• A person or vehicle is struck by a train about every 3 hours, reports Operation Lifesaver.
• In 2012, there were 1,960 collisions at railroad crossings throughout the continental United States. These collisions resulted in 235 deaths and more than 900 injury victims.
• An average locomotive weighs about 400,000 pounds (200 tons) and can weigh as much as 6,000 tons, meaning "the weight ratio of a car to a train [is] proportional to that of a soda can to a car."

Railroad crossing safety tips
• Always slow down as you approach a railroad crossing, and look both ways (twice!) before proceeding through the crossing. Remember that trains don't always operate on a set schedule - so, as safety authorities say, "any time is train time." A train may approach a crossing from either direction at any time of day.
• Never attempt to beat a train through a crossing. When a train is traveling 55 miles per hour, it requires more than a mile to come to a complete stop, which means it's impossible for a train to yield to a passenger vehicle that suddenly appears on the tracks.
• Respect crossing signals. Trains always have the right of way, so drivers must yield to crossing signals like flashing lights, bells, gates and stop signs. If you think a crossing's signals are malfunctioning, contact police or call the 1-800 number on or near the signals. Never try to drive around lowered gates.
Aaron Sachs & Associates, P.C. is a personal injury law firm that represents the victims of Missouri auto accidents. If you've been injured in a crash involving a semi-truck or other large commercial vehicle, you may be entitled to compensation for your losses and damages. Contact our office today to discuss your legal rights and options with an experienced attorney: call us toll-free at 1-888-777-AUTO, or visit our website. Serving clients in Columbia and the surrounding areas, including Centralia, Ashland, Jefferson City, Kirksville, Mexico, Vandalia, Cole Camp, Warsaw, Fulton and Holts Summit.
Attorney meetings by appointment only