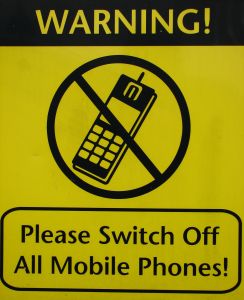 At any given moment during the day, an estimated 660,000 U.S. drivers are talking, texting, tweeting, or otherwise using their cell phones, according to recent data from the U.S. Department of Transportation. Our Joplin personal injury lawyers know that these distracted drivers are more likely to be involved in car accidents that cause serious, life-threatening injuries to other motorists or to the drivers themselves.
Recently, a Colorado family released a photograph of their son's final text message, which was composed in the seconds before he was killed in a single-vehicle accident. Witnesses to the crash say 22 year-old Alexander Heit appeared to have his head down when he veered out of his lane into oncoming traffic. When Heit looked up and realized what had happened, he jerked the steering wheel hard and overcorrected, causing his vehicle to run off the other side of the road and overturn several times. Heit was taken from the scene by ambulance, but he later died at the hospital.
When police investigated the crash, they found Heit's phone, open to a text message conversation and displaying a partially composed message: "Sounds good my man, seeya soon, ill tw". The message was never sent. Investigators say Heit was not speeding at the time of the crash and had a spotless driving record.
In a statement, Heit's mother said the family decided to release a photograph of the text message in the hope that it would deter others from texting and driving. "I can't bear the thought of anyone else having to go through something like this," Sharon Heit said. "Please, vow to never, NEVER text and drive. In a split second you could ruin your future, injure or kill others, and tear a hole in the heart of everyone who loves you."
Texting and driving by the numbers:
• 196 billion: the number of text messages that were sent or received by Americans in June 2011. The figure represents a 50% increase compared to June 2009.
• 31%: the number of American drivers who admit to sending or reading text messages while driving, according to a report from the Centers for Disease Control and Prevention (CDC).
• 77%: the number of young adult drivers who are "very confident" or "somewhat confident" that they can safely text while driving.
• 4.6 seconds: the average amount of time a driver's eyes are off the road while sending or receiving a single text message. At 55 miles per hour, that's like driving blind for the length of a football field.

Aaron Sachs & Associates, P.C. is a personal injury law firm that represents the victims of Missouri auto accidents. If you or a loved one has been injured in a crash caused by a distracted driver, it may be beneficial to discuss your legal rights and options with an experienced attorney. Our firm works on a contingent-fee basis, and we offer a free initial consultation to discuss your case. To schedule an appointment, call us toll-free at 1-888-777-AUTO, or visit our website. Serving clients in Joplin and the surrounding areas, including Lamar, Pierce City, Mount Vernon, Noel, Anderson, Neosho, Carthage and Webb City.
Attorney meetings by appointment only