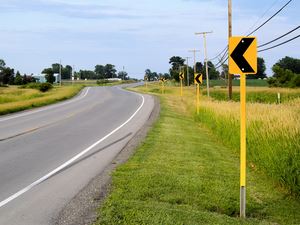 On Monday, a Kansas woman was killed when an SUV driven by her 14 year-old daughter overturned in Linn County.
According to the Kansas City Star, the crash happened around noon on Labor Day. The victim, 42 year-old Brenda Jo Clouse, was a passenger in a Ford Explorer traveling north on 1077 Road near Parker, Kansas. The driver, Clouse's daughter Caitlyn, ran off the east side of the road and then overcorrected, driving into the west ditch and causing the SUV to roll over multiple times. The vehicle eventually came to rest on its top.
Clouse was pronounced dead at the scene of the crash. She was not wearing a seatbelt. The other occupants of the vehicle were injured: Caitlyn and her 16 year-old brother, Connor Clouse, were taken to Overland Park Regional Medical Center, where they were treated and released the same day. A third passenger, 15 year-old Shaylyn Holcomb, was taken to Miami County Hospital. Her current condition is unknown. Caitlyn and Shaylyn were both wearing seat belts when the accident occurred; Connor was not wearing a belt.
The Kansas Highway Patrol continues to investigate the crash. Authorities report that Caitlyn Clouse had a learner's permit and was getting some driving practice when the accident occurred. "I think the message to take home is, kids out there, when you're learning to drive, it's a dangerous situation. Be very careful. Learn from this terrible accident. And wear your seat belt." Greg Cronin, Brenda Jo Clouse's brother, told KMBC.
Overcorrection is a common contributing factor in many car accidents. When drivers sense that their right tires have dropped off the roadway, they often panic and jerk the wheel hard to the left. In many cases, this impulsive reaction sends a vehicle directly into the path of oncoming traffic, causing a head-on collision. In others - especially in accidents involving SUVs - the vehicle will roll over. Teen drivers are particularly vulnerable to this kind of error: because they lack experience, they are more likely to panic and overcorrect when they realize they're drifting off the roadway.

Here are a few tips to help you prevent overcorrection:
• If you feel your right tires drop onto the shoulder of the road, slow down gradually by easing off the accelerator. If possible, avoid hitting the brakes, but if you must, do so gently.
• Keep a firm grip on the steering wheel. You want to keep the vehicle traveling straight ahead, and prevent it from pulling to the right.
• Make sure your maneuvers - steering and braking - are smooth. If you lose control of your vehicle's weight and momentum, you're at risk of rolling the vehicle.
• When you have slowed to a safe speed, gently ease your vehicle back on to the roadway.
At Aaron Sachs & Associates, P.C., our personal injury lawyers represent car accident victims in Kansas City and throughout the surrounding areas, including Independence, Liberty, Lee's Summit, Excelsior Springs, Gladstone and Kearney. We work on a contingent fee basis, and we offer a free initial consultation to discuss your case. To schedule an appointment, please call us toll-free at 1-888-777-AUTO, or visit our website.



Attorney meetings by appointment only