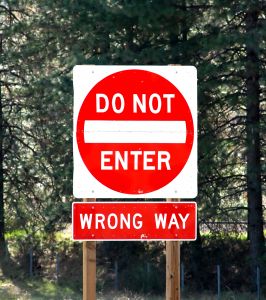 Early this morning, a wrong way car collision in Riley County, Kansas left 2 motorists dead and 4 Kansas State University students injured. According to the Kansas Highway Patrol, law enforcement officials believe that alcohol played a key role in the crash.
The accident happened just west of Manhattan at around 3:00 a.m. A Chevy Silverado truck carrying the group of K State students was traveling east in the westbound lanes of Kansas 18 when it collided with a westbound Buick head-on.
The 2 occupants of the Buick, both from Ogden, died at the scene of the crash. The K State students were taken by ambulance to Mercy Regional Health Center in Manhattan, and 2 were later transported on to the larger Stormont-Vail Hospital in Topeka. None of the victims' names (nor any additional information about their current conditions) have yet been released: law enforcement officials are currently attempting to contact their families and loved ones.
The accident remains under investigation. Lieutenant Gregory Harkrader of the Kansas Highway Patrol told WIBW that alcohol was believed to be a causal factor in the crash. In addition, the Patrol will work to determine why the driver of the Buick did not appear to veer or stop after realizing that the truck was coming straight at the car head-on.
Head-on collisions commonly cause serious, life-threatening injuries. More people are killed in these crashes than in any other kind of traffic accident. Most often, however, these accidents are the result of improper passing or unintentional drifting across the center line: in fact, 83% of head-on collisions occur on 2-lane rural roadways. As a head-on collision cause, wrong way drivers are considerably more rare.
The National Highway Traffic Safety Administration (NHTSA) reports that wrong way drivers are involved in about 1.5% of car accidents nationwide. Transportation agencies have been working to combat the problem of wrong way freeway driving since the 1950s, when the interstate highway system was founded. Normally, wrong way drivers tend to fit into 1 of the following 4 categories.
• Older drivers who are confused or disoriented
• Intentional drivers (i.e. drivers trying to avoid traffic jams or congestion caused by crashes, etc.)
• Inattentive drivers who mistake an off-ramp for an on-ramp
• Impaired drivers (i.e. drivers under the influence of alcohol or drugs)

How can I protect myself from a wrong way driver?
• Keep an eye out for signs of a possible wrong way driver. In particular, watch for indications of pending problems or developing emergency situations (for example, other vehicles braking or swerving to avoid something). Of course, you'll also want to look for the most obvious sign of a wrong way driver: headlights coming in the opposite direction.
• Know where to look. Wrong way drivers often drive in the inside lane or inside shoulder, believing they are actually on a two-lane highway.
• Use the 4 Rs, recommended by the National Safety Council:
o Read the road ahead.

o Reduce your speed.

o Drive to the right.

o Ride off the road, if necessary.

Be advised: a wrong way driver approaching you may suddenly "wake-up" and realize they've crossed into oncoming traffic. At that point, a common instinctive response is to attempt to correct the error by steering left (back into the appropriate lane). So, under these circumstances, it's usually best to steer RIGHT - off the road, if necessary.

The personal injury lawyers at Aaron Sachs & Associates, P.C. represent accident injury victims in Jackson County, Clay County, and throughout the Kansas City metropolitan area. To schedule a free initial consultation with one of our attorneys, call us toll-free at 1-888-777-AUTO, or visit our website.

Attorney meetings by appointment only