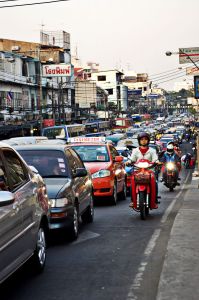 Winter is almost behind us: in fact, Missouri weather has been almost summer-like this week. The warm months ahead are the biggest time of year for motorcycle riding in Columbia, Jefferson City and throughout the state. It has been speculated that increasing gas prices trigger a corresponding rise in the number of people who use motorcycles for daily transportation. Although it's true that riding a bike is much more energy efficient, motorcyclists are also more likely to suffer serious injuries in the event of an auto accident.
Last Friday marked the beginning of Daytona's annual Bike Week, a 10-day event in that is expected to attract 500,000 motorcycle riders this year. Our Columbia car accident lawyers were saddened to hear that there have already been reports of at least 4 motorcyclists killed in separate collisions - including one rider from Neosho, Missouri. The accident happened today in Flagler County, Florida: 39 year-old Diana Sallee was a passenger on a Harley Davidson that collided with 2 non-moving vehicles. Local law enforcement reports that a Chevrolet Suburban and another motorcycle were stopped in the roadway while waiting to turn left into a state park: it appears that the Harley's driver, 38 year-old Billy Sallee (also of Neosho), simply failed to see them
Billy Sallee only sustained minor injuries in the collision, but Diana Sallee was ejected and thrown under the Suburban. She was taken to a nearby hospital by ambulance, but she later died as a result of her injuries. Both riders were wearing helmets. The Florida Highway Patrol is currently awaiting toxicology results for Billy Sallee: depending on those results, he may face criminal charges.
Even with a helmet, riding a motorcycle can be considerably more dangerous than driving a closed vehicle (like a car, van or SUV). One of the biggest dangers to motorcyclists is that other drivers often fail to see them. Drivers of cars and trucks are reminded to share the road with motorcyclists (and their vehicles aren't always as easy to spot). When making a turn, it's important look carefully for any motorcycles that might be oncoming, in the lane next to you, or in the lane you are turning into.
For, motorcyclists, we offer these recommendations for safe motorcycle riding, from the Motorcycle Safety Foundation (MSF):
• Do not ride a motorcycle on highways or heavily trafficked roads until you are properly trained and licensed.
• Wear all recommended protective gear each time you ride, including a helmet (which must meet DOT standards). In addition to proper helmets, leather jacket, chaps and proper boots have been proven to reduce accident injuries by as much as 30%.
• Don't ride under the influence of alcohol or other drugs.
• Know what you are (and are not) capable of, and ride within your own skill limits.
• Improve your skill limits by taking refresher rider courses.
The MSF provides information about where to take a 15 hour rider training course in the Columbia--Jeff City area: click here to visit their website.
If you have been injured due to another driver's negligence, you might need legal assistance. The Columbia motorcycle accident lawyers at Aaron Sachs & Associates, P.C. offer a free initial meeting to discuss your case. To schedule an appointment, please call 1-888-777-AUTO, or visit our website.
Attorney meetings by appointment only