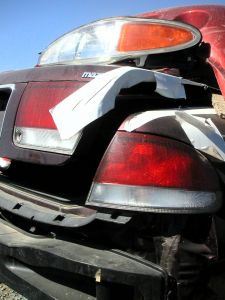 Two teens were killed and several others were injured in a recent car crash near Kansas City, Kansas, according to KCTV 5. On Sunday morning around 3 a.m., the Roeland Park Police Department received reports of a suspicious 2002 Ford Explorer driving around a Wal-Mart parking lot. When a patrol car responded and approached the vehicle, the SUV fled, immediately accelerating to over 70 miles per hour. Investigators have confirmed that the Roeland Park officer did not initiate the chase - he wasn't even able to speak with the teens before they fled.
The officer then began to follow the SUV at a distance. Eventually, the driver lost control as he attempted to navigate a curve in the roadway, and he ran into a pillar below the bridge on I-35. Investigators say the SUV then spun around and hit the pillar yet again, which caused the vehicle to become airborne. None of the teenagers were wearing seatbelts, so the centrifugal force ejected all seven occupants. The force of the impact caused the vehicle to burst into flames.
Two occupants were pronounced dead at the scene: the driver, 18 year-old Alexis Medina; and a passenger, 18 year-old Karla Robledo. The other five occupants (ranging from 15 - 19 in age) survived the accident, but they remain hospitalized with serious injuries.
Police are still trying to determine why the teens took off so fast. Alcohol was found at the scene, leading investigators to believe that drinking played a role in the decision to flee - and that it potentially impacted the severity of the crash. No charges are expected to be filed, as the driver was killed in the accident.
"These kids are going to have, at best, some lifelong reminders that this was a bad night," said Howard Dickinson, public resource officer with the Kansas Highway Patrol.

Indeed, this tragic incident serves as a reminder to the parents of teen drivers. It is vital to maintain a dialogue about safe driving practices, and in particular, to discuss the dangers associated with drunk driving (and riding with an impaired driver). The summer months are an especially good time to review driving safety tips with teens, since more teenage accidents occur in the summertime than any other time of year.
In the end, reminding your teenager to make good decisions behind the wheel could ultimately save many lives. Many organizations suggest creating a parent-teen driving contract, which establishes a standard for driving behavior, and helps hold teens accountable for the decisions they make behind the wheel.
The AAA also emphasizes the importance of being a good driving role model for the teens in your life. For example, if you use your cell phone while driving, you're teaching your teenager that it is acceptable to multi-task while driving. Mimic the behaviors you'd like to see in your teen, especially when he or she is your passenger.
Also, remember that many teenage accidents occur after dark. Most safety advocates agree that new drivers should receive extra supervised driving time at night - in fact, many states' graduated driver license laws (including Missouri's) require it. Studies have shown that teens are more likely to make safe, responsible choices when their parents are actively involved in their driver training. Overall, creating safety rules for your teen drivers - and enforcing those rules - can drastically reduce fatal teenage auto accidents and save lives.
At Aaron Sachs & Associates, P.C., our Missouri personal injury lawyers represent accident victims in the Kansas City area, including Lee's Summit, Liberty, Independence and Blue Springs. To contact us, call 1-888-777-AUTO, or visit our website.



Attorney meetings by appointment only