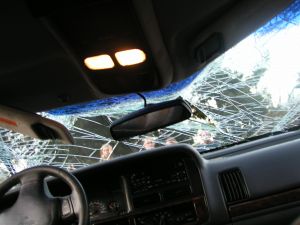 Four people were injured - one seriously - when an uninsured driver crashed his vehicle into a large boulder alongside the road in Milford, Massachusetts. The Milford Daily News reports that 19 year-old Juan Delgado was behind the wheel when his car left the roadway and smashed into the boulder. Delgado and two of his passengers were taken from the scene by ambulance. A third passenger, 21 year-old Johnny Castro, was airlifted from the scene. Emergency responders had to block off the street and use hydraulic rescue tools to free Castro from the mangled vehicle. He reportedly suffered from compound fractures, head injuries, and other trauma.
An investigation of the accident is ongoing. Authorities believe excessive speed and alcohol use contributed to the crash. Delgado has been charged with drunk driving causing serious injury; negligent driving; speeding; driving an unregistered vehicle; and driving an uninsured motor vehicle.
Under Missouri law, all drivers are required to carry some form of motor vehicle liability insurance coverage. However, unfortunately, not all drivers follow the law. An estimated 10 to 15% of Missouri drivers get behind the wheel without appropriate insurance - which, according to the Missouri Department of Revenue, results in thousands of accidents every year that involve uninsured motorists. The victims of these crashes are often left to worry about who will cover their medical bills, lost wages and other expenses.
The aftermath of an auto accident can be extremely overwhelming, even when everyone is properly insured and it's clear who was at fault. And if you've been seriously injured in a collision, the physical pain you're feeling can make it difficult to focus on practical issues - like your expenses. When such a collision is caused by the negligence of an uninsured driver, the situation can be all the more difficult.
Under these circumstances, injury victims may still be able to recover compensation under their own uninsured motorist coverage. Missouri law also required drivers to carry uninsured motorist coverage of at least $25,000 for bodily injury per person and a minimum of $50,000 for bodily injury per accident. This component of your policy makes it possible for you to recover damages from your own insurance provider, should you be involved in a crash with an uninsured driver.

Uninsured motorist coverage can also take effect in a hit and run accident - i.e. when the at-fault driver flees the scene and cannot be identified. When you're the victim of a hit and run, your insured motorist coverage works to replace the at-fault driver's coverage, kicking in to cover medical expenses and other losses, so you're not left to cover the bill alone.
Aaron Sachs & Associates, P.C. is a Missouri personal injury law firm with more than 50 years of combined legal experience. We serve auto accident victims in Columbia, Missouri and throughout the surrounding areas, including Jefferson City, Centralia, Ashland, Kirksville, Mexico, Cole Camp, Fulton, Boonville, Eldon and Moberly. Our attorneys work on a contingent-fee basis, and we offer a free initial consultation to discuss your case. To schedule an appointment, please call our office toll-free at 1-888-777-AUTO, or visit our website.
Attorney meetings by appointment only