The families of two college freshmen who died in a wrong way crash last year have filed separate wrongful death lawsuits against the driver who struck their vehicle.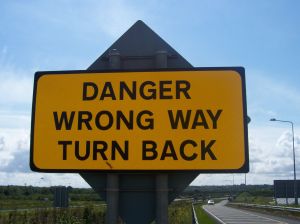 According to the Daily Press in Hampton Roads, Virginia, the lawsuits target 34 year-old Jesse Evans Jr., who has also been charged with two counts of involuntary manslaughter in connection with the crash.
On December 4, 2011, Evans was reportedly traveling east in the westbound lanes of Interstate 64 when his Chevrolet Tahoe struck a Ford Taurus head on. Of the five occupants of the Taurus, two suffered fatal injuries: 19 year-old Sierra Smith was pronounced dead at the scene; and 17 year-old Kimberley Brin died the following morning as a result of her injuries. Both women were riding in the backseat of the Taurus. The driver of the Taurus and two other passengers were also injured in the crash.

At a hearing, a Virginia State Trooper testified that he tapped on Evans' window after the accident and Evans "said he didn't remember" that the collision had occurred. His blood alcohol content was 0.21%, nearly three times the legal limit. In addition to manslaughter, Evans is also charged with three counts of maiming by driving under the influence and with having two DUIs within a five year period.
The wrongful death lawsuits, filed by the families of Smith and Brin, each request $5 million in damages and a trial by jury, the Press reports. The driver of the Taurus has also filed a separate personal injury lawsuit against Evans, which seeks $700,000 for current and future medical expenses.
Repeat DUI offenders pose a considerable safety threat to drivers in Missouri and throughout the United States. According to Mothers Against Drunk Driving (MADD), approximately one third of drivers arrested or convicted of drunk driving are repeat offenders. And the Centers for Disease Control (CDC) reports that approximately 30 people are killed every single day in crashes caused by drunk drivers, amounting to one death every 48 minutes. Impaired drivers increase accident risks for everyone on the road - and repeat offenders do so over and over again.