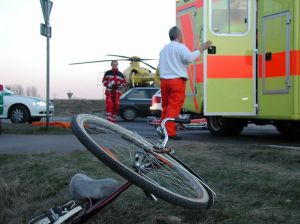 Riding a bicycle in Jackson, Missouri and surrounding Cape Girardeau County is not only a fantastic way to exercise: it's also an economical and green mode of travel. However, bicycling can also pose some risks. Our Jackson car accident lawyers think it's always best be prepared before an accident happens. Ride safely, follow motorist laws, and read the following post for a few suggested extra precautions.

Tips To Follow In Case of A Bicycle Accident:
• Carry a cell phone. You probably already do, but carrying a cell phone when you're riding a bike is an added safety precaution. Not only can you call for help if you are involved in a bicycle accident, but a cell phone can also come in handy to document the accident scene.
• Carry paper and pen, or some way of recording information. If you are involved in an accident, collect the names and contact information for all drivers and witnesses. Paper will come in handy if you need to exchange information. Many witnesses have to leave the scene before law enforcement can arrive, so make sure you get their information.
• Carry identification. Some bicyclists make copies of their driver's licenses and write their emergency contact information (as well as auto and home insurance info) on the back. Also, record any medical information, such as blood type, drug allergies or any other important medical conditions. Depending on your policy, your auto insurance may pay some of your medical bills (or possibly the entire claim) if an uninsured motorist hits you. Your homeowner's policy may protect you if someone claims you did something wrong and damaged personal property.
• If your cell phone isn't equipped with a camera, carry a disposable camera with you. If an accident does happen, you can use it to photograph the scene.
• Keep your records up to date. Keep current pictures of your bicycle along with your maintenance records. If your bicycle is damaged you want to have proof of value. If you have expensive equipment added to your bicycle or that you carry with you for your commute, keep these inventoried (with pictures and receipts as well).
• Follow all laws. Keep abreast of traffic rules and follow them when you are on a roadway. Be alert, and remember, a bicyclist can be hard for a driver to see.

If a Bicycle Accident Occurs:
• If you are struck or have a significant fall, do not move until you have a sense of how badly you're hurt. Some life threatening injuries can result if you move before you are assessed by a trained medical professional. This is particularly true if you have lost consciousness. Take a few minutes and make sure you have no serious bleeding or sharp stabbing pains. Your health comes first.
• Do not refuse medical attention: let the emergency medical technicians attend to you. Many times it takes several hours to determine how extensive your injuries are. Seeking treatment not only ensures you are not seriously hurt, it also provides a record of your condition and your injuries. Do not let anyone talk you out of calling 911, no matter how well you think you are doing after the accident.
• Write down what people say, and keep track of the police investigation and medical follow up. Many people apologize and admit fault immediately following an accident, but then reconsider later when they have calmed down and had time to think about it.
• A picture is worth a thousand words, especially when it is taken of your injuries before they start to heal. So take pictures of you and your bike as soon as it is safe to do so.
• Keep a log of your symptoms, treatments, medical visits, and follow ups. Keep copies of everything.
Attorney meetings by appointment only