Kansas City, Missouri has several motor cycle accidents a week. Monday September 19, 2011 yet another motorcyclist died in a motorcycle accident. This accident happened on the Country Club Plaza. The motorcycle driver collided with a Lexus after the Lexus made a left hand turn in front of him. Kansas City Mo Police (KCPD) is investigating whether the motorcyclist's speed was a factor.
Missouri's New Motorcycle Test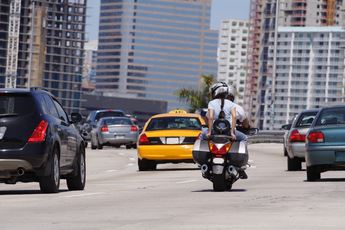 Too many motorcycle accidents and deaths are part of why Missouri Department of Transportation (MoDOT) has implemented new motorcycle testing procedures. The Missouri State Highway Patrol (MSHP) implemented theses testing changes on September 1, 2011. MoDOT's and MSHP's goal for implementing the changes is to improve traffic safety and reduce the lives lost to motorcycle accidents.
The motorcycle endorsement test has been enhanced to match the latest version of the motorcycle skills testing as determined and developed by the Motorcycle Safety Foundation. The new testing standards involve changes to both the driver test and the written test and have been implemented statewide.
The test now includes a new obstacle swerve test to measure a motorcycle driver's ability to use proper avoidance maneuvers. Since motorcycles and motorcycle styles have changed so much over the years, this new testing procedure matches these changes. The new motorcycle driver test will also test skills for three-wheel motorcycles.
Why Implement New Motorcycle Tests in Missouri?
In 2010 in Kansas City, Mo. 13% of fatal crashes were motorcycle accidents. Statewide 284 motorcyclists died during the two year period of 2008 to 2010. Over 52% of those killed between 2008 and 2010 were over 40 years of age.
Many factors contribute to the age statistic. But one thing can help. Renew you motorcycle safety training. Make sure you are current on the latest training information from the Motorcycle Safety Federation. And be alert for the mistakes of other drivers. Be prepared for someone turning in front of you or merging into your lane.
Kansas City Mo Safe Motorcycle Driving Habits



Stay alert. Look for and anticipate other driver's mistakes.


Slow down. Drive the speed limit or slow down if you see a hazard or when weather or traffic conditions warrant.


Be visible. Motorcycles are hard to see and easy to miss, wear bright clothing and reflective materials.


Follow the law. Read the latest Missouri Driver's Guide to learn the new requirements and refresh your memory about Missouri motorcycle laws.


Don't get complacent. The longer you ride without a problem the easier it is to become lax. Visit the Motorcycle Safety Foundation website, read about safety and sign up for a safety course.


Most motorcycle accidents are preventable. Do all you can to make sure you are rested and alert when you get on your motorcycle. Remember the hazards riding a motorcycle can create and ride carefully. The added safety precautions will only enhance your motorcycle riding enjoyment and ensure that you can do so for a long time.
If you are involved in a motorcycle accident in or around the Kansas City area and feel you need legal advice, contact the Kansas City Mo motorcycle accident lawyers. We offer a free no-obligation consultation meeting. Call 1-888-777-Auto (2886).

Attorney meetings by appointment only