The risk of serious or fatal injuries suffered in Springfield tractor-trailer accidents could increase if heavier semis are permitted on Missouri roads, the News-Leader reported.
Springfield accident lawyers know motorists are already at high risk of fatal injuries if involved in a crash with a tractor trailer -- some of which can weigh 80,000 pounds, or 20 times the weight of a 4,000 passenger car. As we reported recently on our Springfield Missouri Car Accident Lawyer Blog, 98 percent of those killed in accidents with large trucks are the passengers of smaller vehicles.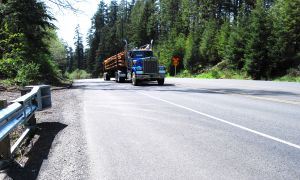 Missouri trucking accidents claimed 83 lives in 2009, according to the National Highway Traffic Safety Administration. Nationwide, nearly 4,000 were killed and 74,000 were injured.
With revenue in the $600 billion trucking industry set to double in the next decade, Congress is being lobbied to permit trucks to run down the nation's roads 16,000 pounds heavier and to permit double- and triple-trailer trucks nationwide. Not only would such a move come at the expense of highway safety, it would add significant costs to the task of maintaining roads and bridges -- a price also paid not by the trucking companies but by the motoring public.
Nationwide, 1 in 8 fatal crashes already involves a large commercial truck. Bigger trucks would mean more weight and energy in crashes, and longer stopping times. Heavier trucks would also be more prone to rollover crashes. Maintenance issues involving brakes, suspension and tires would also increase the risk of accidents.
Some 4,000 Missouri bridges are classified as "structurally deficient" and another 3,000 are "functionally obsolete." Increasing the permitted weight of trucks would be good for trucking industry profits, but would come at a cost to taxpayers in both road maintenance and lives lost.