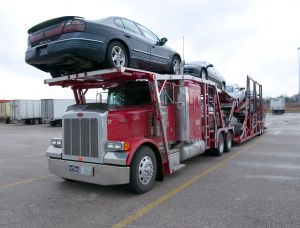 According to truck accident lawyer Aaron Sachs, trucking revenues currently are above $600 billion, and expected to double by 2015. The trucking industry is booming. However, where there is trucking, inevitably there are truck accidents. For Springfield MO drivers who have to share the roads with big trucks, semi's and tractor trailers, this creates an extremely hazardous situation.
According to the U.S. Department of Transportation (DOT) approximately 500,000 truck accidents happen every year, nationwide. Of this number, some 5,000 truck crashes result in fatalities. In fact, one out of every eight traffic fatalities involves a trucking collision.
Springfield truck accident lawyers point out that in a collision with a big truck, the cars, vans and SUVs are at a potentially fatal disadvantage. A tragic 98% of all fatalities in a truck accident occur to the people in the smaller passenger vehicles.
Residents of Springfield, Rolla, West Plains, and Cassville MO might be surprised to hear that 68% of all fatal truck accidents occur not in cities, but in rural regions.
Springfield truck accident attorneys recommend drivers of smaller vehicles learn to practice defensive driving around trucks.

Top Ways Springfield Drivers Can Avoid Truck Accidents:
• Stay extra alert when driving near a tractor trailer or other big rig.
• Give trucks plenty of room when they are turning, going through a construction zone, or on entrance and exit ramps.
• Give trucks extra room in bad weather conditions. They cannot accelerate, stop or maneuver as quickly as a passenger car.
• Try not to drive in a truck's blind spots.
• Avoid passing a truck on the right when the truck is turning right.
• Never cut off a truck while passing.