A rollover car accident in Colombia on I-70 left a female driver and a male passenger with injuries, according to the Missourian.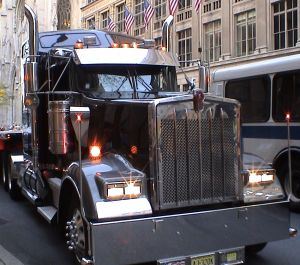 The car reportedly swerved to avoid something that fell off of a tractor-trailer. After swerving, the car went into a ditch near mile marker 118 and sustained significant damage. Both occupants were wearing their seat belts at the time of accident and were taken to University Hospital to be checked out. The westbound lanes of the highway were backed up for miles.
Our Colombia car accident attorneys recognize the dangers that these tractor-trailers and semi trucks pose to occupants of passenger vehicles. With the large size, excessive weight, unstoppable power and unsteady loads, they pose a deadly risk to everyone on the road.
In 2009, there were nearly 3,500 fatalities in the United States because of accidents involved these large trucks. Another 74,000 people suffered injuries from these incidents. Police reported accident statistics reveals that there were roughly 296,000 large trucks, with the gross weight of more than 10,000 pounds, involved in accidents that year, according to the National Highway Traffic Safety Administration. Missouri had nearly 100 trucks involved in these fatal accidents in the same year.
The Federal Motor Carrier Safety Administration enforces cargo regulations to make sure that interstate trucks are traveling with safe loads. These requirements are meant to reduce the risks of truck cargo creating potential dangers to motorists that share the roads.
The FMCSA requires that the cargo loads be able to withstand strong forces. These forces can come from three directions. They can come from deceleration in a forward direction, acceleration in a rearward direction or either acceleration in a lateral direction.
Cargo measures include an even distribution of cargo weight after each load and delivery, the use of anchor points, and the use of tie-downs.
If cargo on a truck comes loose, flies off or spills onto the roadway, a disaster is often the result. Other motorists can be drastically and physically affected by these mishaps. Cargo can fall onto cars and spilled liquids can make the pavement slippery or may even create an environmental or health hazard.
If you or a loved one has been been affected by the unsafe cargo of a semi truck you are urged to take immediate steps to protect your legal rights. These types of situations can oftentimes be difficult to handle on your own, as the violation of the above regulations can lead to a finding of negligence.
If you or someone you love has been injured by unsafe loads from a truck accident in Ashland, Camdenton, Linn, Marshall or any of the surrounding areas, call 573-449-5500 today for a confidential consultation to discuss your rights. Attorney meetings by appointment only.
Attorney meetings by appointment only