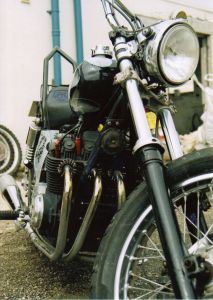 The Governors Highway Safety Association (GHSA) has released the results of the first ever state-by-state look at motorcycle fatalities, for 2010. Springfield Personal Injury Attorneys are pleased to hear that motorcycle fatalities declined in 2010 by at least 2 percent nationwide. This information is based upon data from all 50 states and the District of Columbia. 2009 showed a dramatic 16 percent drop from the previous year, so apparently the nation is continuing this downward trend. Prior to 2009 though, there were eleven years in a row of increases in the numbers of motorcycle deaths.
How did Missouri do in this report? Well, unfortunately the amount of fatal motorcycle accidents in Missouri was unchanged from the previous year, although many states showed a decline of much higher than 2 percent.

What Can Missouri Do to Decrease Motorcycle Accidents and Fatalities?
Here are the GHSA's Recommendations:
• Increase helmet use: Missouri's helmet law is still on the books. Motorcycle helmets have been repeatedly proven to save lives; they show a whopping 37 percent effectiveness at preventing fatal injuries to motorcycle riders.
• Reduce Alcohol Impairment: by conducting checkpoints and other high visibility drunk driving enforcement measures. State police need special training to help them be able to identify drunken motorcyclists.
• Reduce Speeding: A whopping 35 percent of motorcycle fatalities involved speeding. More than fifty percent of these did not even involve a collision with another vehicle.
• Provide Ongoing Motorcycle Operator Training: All fifty states have motorcycle training courses, but not all riders take full advantage of it.