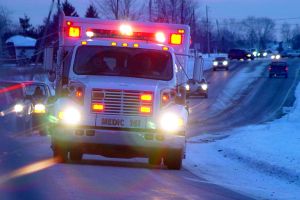 The back of an ambulance is the last place anybody should expect to be injured in a car wreck. But that is exactly what happened on July 8th near Fair Play, MO.
Until the investigation results are released Springfield Missouri Car Accident Lawyers remind Polk and Greene County, as well as all Missouri drivers, to observe traffic laws for emergency vehicles:


Always be on the lookout for emergency vehicles.


Remember that in modern cars sirens are difficult to hear.


On a highway, traveling at faster speeds, vehicles are traveling fast enough that the siren cannot be detected until the emergency vehicle is very close.


If an emergency vehicle approaches in your lane, pull over to the nearest edge of the roadway and clear an opening so they may safely pass. Never stop right where you are.


If an emergency vehicle approaches from the opposite direction, be prepared to slow and stop, they may need to turn in front of you or enter your lane.


Treat any vehicle with flashing red, blue, or amber lights as an emergency vehicle and slow down, move over and let them do their job.


Missouri Revised Statute requires a driver to yield right-of-way; move as far to the right of the roadway as possible and stop until the emergency vehicle has passed.


A driver is required to change lanes so as not to be adjacent to a stationary emergency vehicle and if this is not possible to slow down and use caution if this lane change is not possible.





This particular traffic accident occurred on Highway 32, about a mile east of Fair Play.

The Missouri State Highway Patrol (MSHP) is still in the investigation phase. The Cox Health ambulance was transporting a patient to a local hospital on Friday when a dump truck traveling in the opposite direction of traffic apparently crossed the center line.