Columbia car accident lawyers heard of shocking accident on Friday, July 15. Two pedestrians were hit and killed while adding gasoline to their vehicle on the eastbound shoulder of I 70, near the 129.6 mile marker. The two victims were Edward Taggart, 72, of Prairie Home, and Gilbert Love, 73, of Auxvasse, Missouri.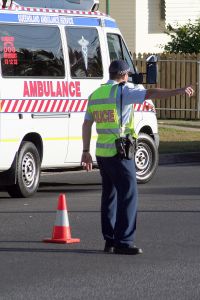 According to Columbia police, who responded to the accident, the two men who were killed had stopped their two vans on the shoulder, to add gas to one of the vans. They were hit by a Toyota 4-Runner sport-utility vehicle driven by Earl Hutcherson. One man died at the scene; the other was taken to the hospital but died shortly thereafter.
Love and Taggart were coworkers, and reportedly good friends as well. They were working for a car auction service delivering vehicles at the time of the accident. They were apparently assisting one of their fellow drivers who ran out of gas, when they were hit.
Hutcherson, 60, was sent to the Boone County Jail with an undetermined bond amount. He now faces two counts of involuntary manslaughter, and one count of driving while intoxicated. Columbia Police reported that Hutcherson indicated use of a cell phone prior to the crash. Officers at the scene reported the smell of alcohol on Hutcherson's breath.
It is known that he pleaded guilty to driving while intoxicated back in August of 1985.
The investigation into this shocking tragedy is ongoing. Said Columbia Police Officer Latisha Stroer, "I know that they went through field sobriety at the scene. They do not have the results back on the alcohol, the results from the test."

Columbia car crash attorneys legal analysis:
Manslaughter is a legal term referring to killing a human being, in a manner considered by law to be less blameworthy than actual murder.
Missouri law differentiates between levels of criminal culpability mainly based on the state of mind (mens rea) or intent of the perpetrator. Involuntary manslaughter is defined as the killing of a human being without malice aforethought. It differs from voluntary manslaughter by the absence of intention. A high degree of negligence on the part of the accused is required to warrant criminal liability.
In Hutcherson's case, he may be facing criminally negligent manslaughter; if it is proven that his alcohol level was over the legal limit. Criminally negligent manslaughter occurs where death results from serious or gross negligence, as is sometimes the case when driving under the influence.

Although this case may be prosecuted criminally by Columbia prosecuting attorneys, this does not necessarily mean the surviving family members will receive any financial compensation for their loss. If they seek such compensation, they would have to pursue a wrongful death claim through the civil courts.
See the Missouri Revised Statutes, Chapter 537--Torts and Actions for Damages Section 537.080 for more information about wrongful death cases under Missouri law.
Columbia wrongful death attorneys are familiar with the law as it relates to these types of claims.

Attorney meetings by appointment only