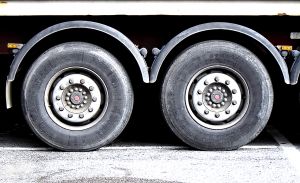 As Missouri personal injury lawyers, we know that accidents involving large commercial trucks and passenger vehicles often have disastrous consequences. More often than not, it's passenger vehicle occupants who suffer serious, life-threatening injuries in these crashes. In 2011 semi-truck accidents, passenger vehicle occupants accounted for 66% of fatalities, while only 16% of the fatally injured were the occupants of large trucks. So, what factors contribute to these devastating crashes? In this post, we discuss three leading causes of accidents involving large commercial vehicles.
Common causes of Missouri semi-truck accidents
1. Driver fatigue. Because fatigue has proven to have an extremely detrimental effect on truckers' driving performance, federal regulations exist to limit the amount of time a driver can spend behind the wheel in a single shift. Unfortunately, some drivers and companies simply don't comply with these regulations. According to the Federal Motor Carrier Safety Administration's Large Truck Crash Causation study, 13% of semi-truck drivers who were involved in crashes were found to be fatigued. And the Insurance Institute for Highway Safety reports that truckers who have been driving for more than an eight-hour stretch are twice as likely to be involved in a crash.
2. Driver distraction. Effective January 3, 2012, federal law prohibits all commercial truck drivers from using a hand-held cell phone while driving. The national ban was enacted in response to several studies that found any form of cell phone use significantly increased a trucker's accident risks. One such study, conducted by the Virginia Tech Transportation Institute, found that a "safety-critical event" is 163 times more likely to occur when a truck driver is using a cell phone to text, email, or surf the internet. In fact, simply reaching for a hand-held electronic device makes a trucker about three times more likely to cause an accident. And cell phones aren't the only source of driver distraction: FMCSA officials say eating, drinking, smoking, and fixating on "non-driving related objects" can also increase a truck driver's crash risk.
3. Speeding. FMCSA officials say speed is a key contributing factor in many semi-truck accidents. The Large Truck Crash Causation Study found that 23% of semi-truck accidents occurred when truckers were traveling too fast for conditions, which is defined as "traveling at a speed that is greater than a reasonable standard for safe driving." Large trucks handle very differently than passenger vehicles, so it's imperative that truckers adjust their speed accordingly when they encounter wet roads, heavy traffic, construction zones, and other potential hazards. Failing to do so can be a fatal mistake.