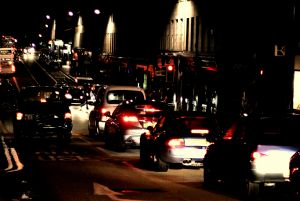 According to the Missouri Driving Guide, an aggressive driver is "an individual [who] commits a combination of moving traffic offenses so as to endanger other persons or property." Aggressive drivers significantly increase car accident risks in Lee's Summit and elsewhere throughout Missouri. Traffic accidents caused by these irresponsible drivers can result in significant property damage, personal injury and even death. And remember, these kinds of accidents are completely preventable when drivers behave responsibly.
Our Kansas City car accident lawyers would like to discuss the consequences of aggressive driving on Missouri roadways, since it's common for drivers to become agitated and react impulsively. Of course, we all get a little frustrated behind the wheel from time to time, but there are more efficient ways to deal with roadway stress than driving aggressively, which endangers our passengers and other motorists (not to mention ourselves). It's also important to know how to handle encounters with aggressive drivers: one wrong move could make them snap. Learning how to deal with these drivers safely can help you avoid a potentially serious accident.
Common aggressive driver behaviors:
• Using the horn gratuitously (especially to express frustration)
• Flashing the headlights
• Forcing another driver to swerve
• Intentionally tailgating
• Yelling at other motorists
• Making rude gestures
• Illegally passing other vehicles
• Speeding
• Running stop signs and red lights
• Weaving in and out of traffic
Read on for some useful tips to help you to deal with aggressive drivers on Kansas City roadways. By being proactive, you can help stop an encounter from ending in a traffic accident.
Protecting yourself and your passengers: Dealing with an aggressive driver
Do your best to get out of the driver's way.
Never challenge an aggressive driver. Many drivers try to keep speed with these drivers or make maneuvers to "hold their own." Just let an aggressive driver pass you. You do not want to get caught up in a dangerous "road battle."
Avoid making eye contact.
Aggressive drivers are notorious for making obscene gestures. Our best advice? Ignore them. Never return a gesture to one of these drivers.
If you observe an aggressive driver on a Missouri roadway, report that to the authorities. Be sure to get a description of the vehicle, the license plate number, the location and the direction of travel for the vehicle and driver being reported.
If you have a phone on you, use it to contact law enforcement to report the aggressive driver. (If possible, it's best to have a passenger make the call, or to pull over somewhere safe.)
If you see that the aggressive driver has gotten into an accident farther down the road, stop at a safe distance away and wait for authorities to arrive. Report the driver's behavior that you witnessed.
Our Kansas City, Missouri car accident lawyers represent accident injury victims in Independence, Lee's Summit, Blue Springs, Liberty, and the surrounding areas. If you or a loved one has suffered injury in a crash caused by an aggressive driver, please contact our office!