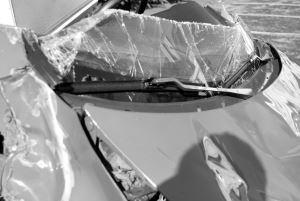 As personal injury lawyers, we understand that the aftermath of a car crash can be confusing and overwhelming. After all, car accidents tend to happen when we least expect them, and it's common for injury victims to feel like their lives have been suddenly turned upside down. And with more traffic in the road, accident risks increase for Missouri motorists during the summer months ahead. In this post, we share four basic steps to help you ensure your rights and interests are protected. Knowing what to do before an accident occurs can save you time and stress, should the unexpected happen to you.
Four important steps to take after a southeast Missouri car accident:
1. Assess your injuries and seek medical treatment. First and foremost, you'll want to check for injuries to yourself, your passengers, and any other parties involved in the crash. If anyone needs immediate medical attention, call for an ambulance - and if you're in doubt, err on the side of caution. Depending on the extent of your injuries, your medical treatment might involve a visit to the ER, Urgent Care or your family doctor. In any case, you'll want to seek treatment as soon as possible following the accident. Be sure to explain all of your injuries and pain in detail. Often, injury victims focus on the injuries that hurt the most, and as a result, the medical records may not reflect the full scope of their injuries.
2. Call the police and file an accident report. An accident report is extremely important - and useful - for three basic reasons. First, it contains the name and address of each driver involved and provide the name of each driver's insurance company. Second, it documents the circumstances surrounding the crash and offers the police officer's conclusions about how the accident happened and who was at fault. And third, it outlines certain facts about the collision, including weather and road conditions.
3. Gather and preserve important evidence. Take photographs of your injuries, your vehicle, and - when possible - the accident scene. Keep a journal that details your medical treatment and your recovery process. Save any paperwork you receive that's related to the crash, including medical bills, letters from insurance companies, receipts, etc. Finally - importantly - keep all of these materials together in a folder or binder to ensure no evidence is lost. These materials can play a key role in personal injury claims.
4. Call a personal injury lawyer. The sooner you contact an attorney, the sooner you'll have a clear understanding of your legal rights - and the sooner you'll have an advocate working on your behalf. Every personal injury claim is different: an experienced attorney can examine the specific factors related to your case and give you an idea of what lies ahead.
We invite you to explore the various resources available on our website. In our "Law You Can Use" section, we provide several useful videos, FAQ pages, and links to other resources for accident victims.
If you've been injured in a car accident, please contact us today to find out if we can help. At Aaron Sachs & Associates, P.C., our attorneys serve injury victims in Cape Girardeau, Missouri and throughout the surrounding areas, including Jackson, Delta, Poplar Bluff, Perryville, Potosi, Sikeston and Ste. Genevieve. We work on a contingent-fee basis, and we offer a free initial consultation to discuss your case and answer your questions. To schedule an appointment, call us toll-free at (888) 287-1046. You can also contact us online by submitting our convenient "Do I Have a Case?" form.
Attorney meetings by appointment only