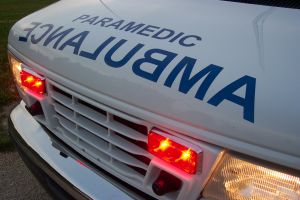 As Missouri semi-truck accident lawyers, we know that large, heavy semi-trucks can act as deadly weapons, particularly when they're involved in collisions with average-sized passenger vehicles. And when semi-truck operators choose to drive under the influence, their vehicles become even more dangerous to other motorists on the road.
Recently, a semi-truck driver was charged with involuntary manslaughter and two counts of assault after he allegedly caused a fatal crash in Platte County. According to the Kansas City Star, 38 year-old Adam Shaw was northbound on Missouri 45 when his tractor-trailer crossed the highway center line. The semi clipped a pickup truck, forcing the smaller vehicle to run off the road, and then the semi hit a southbound minivan head on. The driver of the minivan, 49 year-old Catherine Nienaber, was pronounced dead at the scene, while her passenger (Nienaber's seven year-old son) was taken from the scene by ambulance with serious injuries. The driver of the pickup also suffered non-life threatening injuries in the incident.
Law enforcement officials say they believe alcohol was a contributing factor in the accident. Shaw is currently being held in the Platte County Detention Center on a $250,000 cash bond. Authorities continue to investigate, and Shaw could face additional criminal charges depending on their findings.
Semi-truck drivers and alcohol use
• Under regulations established by the Federal Motor Carrier Safety Administration (FMCSA), semi-truck drivers are not allowed to use alcohol or be under the influence of alcohol within the four-hour period "before going on duty or operating, or having physical control of, a commercial motor vehicle." They're also prohibited from using alcohol, being under the influence of alcohol, or having "any measured alcohol concentration or detected presence of alcohol" while on the job.
• When drivers are found to have violated these regulations, they are immediately placed out of service for the following 24 hours, and they are required to report the incident to their employer (within 24 hours) and to a state official (within 30 days).
• When truck drivers' alcohol use is believed to have contributed to an accident resulting in injuries or fatalities, drivers are required to undergo immediate testing for controlled substances and they must submit to an evaluation conducted by a substance abuse professional. They may also face suspension and the ultimate loss of their commercial driver's licenses, along with being subject to criminal charges, their accompanying penalties, and personal injury or wrongful death lawsuits filed on their victims' behalf.
At Aaron Sachs & Associates, P.C., our personal injury lawyers represent semi-truck accident victims throughout Missouri. If you or a loved one has suffered injury in a crash caused by a truck driver's negligence, it may be beneficial to seek legal advice from an experienced attorney. Our firm works on a contingent-fee basis, and we offer a free initial consultation to discuss your case. For more information, please call our office toll-free at 1-888-777-AUTO, or click here to submit our convenient "Do I Have a Case?" form via our website. Offices in Springfield, Joplin, Columbia, Cape Girardeau and Kansas City.
Attorney meetings by appointment only