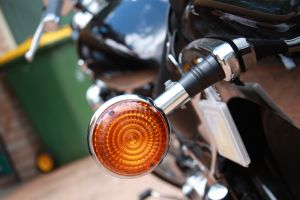 In 2010, there were approximately 8.2 million motorcycles registered in the United States, and that number continues to grow each year. With such a large motorcycle population on the road in Columbia, Missouri, it's all the more essential that other drivers treat riders with courtesy and respect, and that all motorists work together to share the road safely. After all, when another vehicle is involved in a collision with the motorcycle, the motorcyclist is extremely vulnerable to serious, life-threatening injury, in large part because riders lack the protection of an enclosed vehicle. According to the Insurance Institute for Highway Safety, the number of deaths on motorcycles was approximately 30 times the number in cars per mile traveled in 2010.
A recent fatal crash in Delaware underscores the very real dangers facing motorcyclists and their passengers. On Tuesday, a woman was killed and her husband was seriously injured after a car pulled into their motorcycle's path. The Delaware News Journal reports that the couple's 2000 Harley-Davidson struck the front left corner of a vehicle that was exiting a private business and failed to yield the right of way to the oncoming bike. The Harley's passenger, 48 year-old Judy Kibler, was ejected from the motorcycle and pronounced dead at the scene. Her husband, 49 year-old Lawrence Kibler, was also ejected and remains hospitalized in critical condition. Neither of the Kiblers was wearing a helmet, but Delaware state law only requires helmet use in riders age 18 and younger.
Meanwhile, the driver of the other vehicle, 20 year-old Ann Breeding, was not injured in the collision. The accident is currently under investigation by the Delaware State Police Reconstruction Unit, and criminal charges against Breeding are reportedly pending.
Facts about motorcycle accidents involving other passenger vehicles:
• About 40% of fatal two-vehicle motorcycle accidents in 2011 occurred when another vehicle turned left as a motorcyclist was going straight, passing or overtaking the vehicle.
• According to the National Highway Traffic Safety Administration, about 50% of motorcycle-vehicle collisions occur in intersections, often because a turning driver doesn't see an oncoming rider or fails to yield the right of way.

Helmet laws in Missouri and the surrounding states:
Missouri is one of 19 states with a universal helmet law, which means riders of all ages are required to wear a helmet at all times. Most of the surrounding states - including Kansas, Oklahoma and Arkansas - have enacted partial helmet laws that only require helmet use in younger riders. For more information about state helmet laws, click here.
Aaron Sachs & Associates, P.C. is Missouri personal injury law firm that represents car accident victims statewide. If you have incurred medical expenses as a result of a crash caused by a careless or negligent driver, you may be entitled to compensation for your losses and damages. Contact our office today to schedule an appointment for a free initial consultation, where you can discuss your legal rights and options with an experienced attorney. Call us toll-free at 1-888-777-AUTO, or submit our convenient "Do I Have a Case?" form via our website. Serving clients in Columbia, Missouri and the surrounding areas, including Jefferson City, Fulton, Holts Summit, Linn, Lake of the Ozarks, Osage Beach, Camdenton, Versailles and Gravois Mills.
Attorney meetings by appointment only