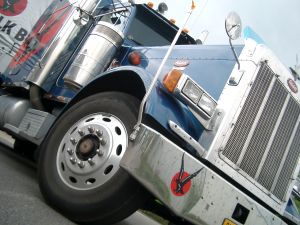 Accidents involving semi-trucks are among the most dangerous collisions on Missouri roads, especially when they involve a smaller car or truck. In 2011 fatal two-vehicle crashes involving a semi-truck and a smaller passenger vehicle, 98% of those killed were passenger vehicle occupants. As Joplin truck accident lawyers, we know that large commercial trucks can become deadly weapons, especially when truck drivers operate their vehicles negligently. As a recent Midwestern accident sadly illustrates, the consequences of such accidents can be catastrophic and far-reaching.
Recently, three separate lawsuits were filed in connection with an Indiana semi-truck accident that killed two people and injured seven others. According to the Fort Wayne Journal Gazette, the crash happened in January on U.S. Highway 30 in New Haven. Authorities say the semi-truck driver, 50 year-old Scott Saunders, failed to stop as he approached an intersection and consequently rear-ended a line of vehicles, where traffic was just beginning to move after the stoplight turned green.
In all, five vehicles were involved in the accident, and two women - 65 year-old Suzanne Stephenson and 43 year-old Sandra Dealey - died of blunt force trauma. Stephenson and Dealey were traveling alone in separate vehicles, and both women were wearing their seat belts.
No criminal charges have been filed against Saunders, but local law enforcement officials continue to investigate the circumstances surrounding the incident. An initial investigation revealed that Saunders did not attempt to slow or stop his semi in the moments leading up to impact - no skid marks from the truck were found at the scene.
Saunders and his employer, Kutzler Express, are now facing three lawsuits for their role in the accident. Two are wrongful death suits filed by the husbands of Stephenson and Dealey. Stephenson's husband is seeking at least $75,000 in damages, while Dealey's husband is asking for funeral expenses, recovery of lost wages, and compensation for himself and her six children. One surviving crash victim, Marsha Sarrazin, has also filed a personal injury lawsuit seeking damages and legal costs, the Journal Gazette reports.

In a strange twist, local media outlets discovered that Saunders' Facebook page suggests he may have been involved in other semi-truck accidents, including one that was just two weeks before the fatal crash in New Haven. On December 28, Saunders' status update said the following: "Why do cars think they can beat up on trucks one tried tonight and lost." He later commented on his own post, clarifying that his truck was fine but there was "a 3ft hole where the other guys headlight should be." Several sources report that Saunders has since been fired from his job at Kutzler Express.
Aaron Sachs & Associates, P.C. is a personal injury law firm that represents Missouri car accident victims and their loved ones. If you have lost a family member in a crash caused by a careless or negligent driver, it may be beneficial to discuss your legal options with an experienced attorney. Our firm works on a contingent-fee basis, and we offer a free initial consultation to discuss your case. Contact us today to find out if we can help: call our office toll-free at 1-888-777-AUTO, or visit our website. Serving clients in Joplin and the surrounding areas in Jasper County, including Carthage, Webb City, Sarcoxie, and Carl Junction.
Attorney meetings by appointment only