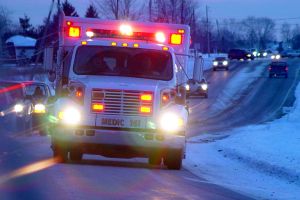 The aftermath of a serious car accident can be a confusing, overwhelming time for injury victims, who often have numerous questions and concerns. In this post, our Cape Girardeau personal injury lawyers answer some of the questions we commonly hear from car accident victims.
What are the most important steps to take immediately after a car accident?
If you've involved in a collision, stay at the scene and contact authorities. First and foremost, call for an ambulance if anyone was injured in the crash - getting immediate medical attention for injury victims is the most essential step. You'll also want to speak with the responding law enforcement officers about the circumstances surrounding the accident. Doing so will create a formal record of the incident that may be extremely important in the future.
What information do I need to keep a record of?
When you can, collect as much information as possible at the accident scene - it's a good idea to keep a pen and paper in your vehicle, just in case you need them. Write down the time, date, and location of the accident, along with names and contact information for all involved parties and witnesses. Exchange insurance information with the other drivers involved in the crash. Finally, if you've been injured, it's also a good idea to make some notes about the nature/extent of any and all injuries you sustained.
How do I know if I have a personal injury claim?
The best way to know for sure is to speak with a personal injury lawyer. In general, however, you may have a personal injury claim if you suffered physical injury caused by the negligence of another party. This negligence need not involve intentional wrongdoing - if another driver's carelessness or unreasonable conduct caused you bodily harm, that driver may be liable for your injuries.
Do I need to file a claim within a specific time frame?
Yes, Missouri's statute of limitations limits the time frame in which a personal injury lawsuit can be filed. Also, there may be other time limits, notice requirements and restrictions that narrow the time period within which you must file a claim. A personal injury attorney can review the specific details surrounding your accident and help you understand any time restrictions that may apply to your claim.
How do I know what my case is worth?
Numerous factors can affect the value of a personal injury claim, including your reasonably related expenses, your lost wages, and your pain and suffering. Determining what a case is worth requires a full evaluation of your injuries and damages.

When should I hire an attorney?
The sooner you speak with a lawyer, the sooner you have an advocate to investigate your case and represent your interests. As time passes, evidence can disappear and witnesses can become more difficult to locate. Many personal injury law firms - including our firm - provide free initial consultations, so there really isn't anything to lose in speaking with a lawyer about your legal rights and options.
Aaron Sachs & Associates, P.C. is a Missouri personal injury law firm serving car accident victims and their families. If you or a loved one has been injured in an auto accident caused by another driver's negligence, it may be wise to discuss your legal rights and options with an attorney. Our lawyers work on a contingent-fee basis, and we offer a free initial consultation to discuss your case. To schedule an appointment, please call our office toll-free at 1-888-777-AUTO, or submit our "Do I Have a Case?" form via our website. Serving clients in Cape Girardeau, Missouri and throughout the surrounding areas, including New Madrid, Poplar Bluff, Sikeston, Caruthersville, Doniphan and Farmington.
Attorney meetings by appointment only