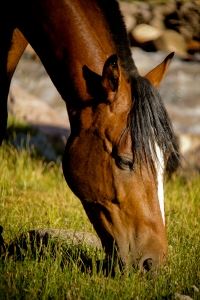 Officials from the U.S. Department of Transportation's Federal Motor Carrier Safety Administration (FMCSA) recently ordered a Tennessee based trucking company to immediately shut down all interstate operations. According to a FMCSA news release, an investigation of horse transporter Terri's Farm revealed that the company is actually a "chameleon operation for an unsafe truck company previously shut down by the agency." In fact, Terri's Farm was using the same vehicles, equipment, operational procedures and safety practices as Three Angels Farms, a horse transporter that was closed by FMCSA on June 29.
FMCSA Administrator Anne S. Ferro said the shutdown order "is another step toward raising the bar for commercial vehicle and roadway safety. It sends a strong and important message that companies who attempt to evade safety regulations by reincarnating will be found and removed from the road."
On June 29, investigators discovered that Three Angels Farms had committed multiple safety violations that posed a significant threat to motorists on our nation's highways, including the following infractions:
• Allowed drivers to operate commercial vehicles without proper commercial driver's licenses.
• Failed to test drivers for controlled substances.
• Failed to properly maintain its vehicles.
• Caused two separate trucking accidents involving poorly maintained vehicles and fatigued or illegal drivers, causing the deaths of four horses.
In response to these findings, FMCSA officials issued an imminent hazard operations out-of-service order, which instructed Three Angels to cease operations. Specifically, the order indicates that "the commercial motor vehicles identified in this order are prohibited from being operated in interstate or intrastate commerce by any other motor carrier or any driver."
According to documents, Terri's Farm officially began motor carrier operations on July 16. FMCSA officials discovered that Three Angels Farms had transferred titles for three of its vehicles to Terri's Farm. In addition, the owner of Three Angels helped the owner of Terri's Farm establish the new company, interviews revealed. Furthermore, the owner of Three Angels was found to be responsible for "all significant aspects" of the operations of Terri's Farm, including paying the drivers, buying their fuel, and planning routes. By using the same vehicles, the same drivers, and the same procedures, Terri's Farm is guilty of the exact same violations that prompted FMCSA to down shut Three Angels Farms.

On August 31, a new U.S. DOT order was issued to Terri's Farm. "The deficiencies cited in the June 29 [Imminent Hazard] Order resulted in violations which substantially increase the likelihood of serious injury or death to commercial vehicle drivers and the motoring public," the order says. "These violations have not been abated."
Terri's Farm cannot resume operations until it addresses its federal safety violations. If the company defies the new imminent hazard order and continues to do business, it could face fines of up to $16,000 per day.
At Aaron Sachs & Associates, P.C., our personal injury lawyers represent the victims of Missouri trucking accidents. We maintain five offices throughout the state, with locations in Springfield, Joplin, Columbia, Cape Girardeau and Kansas City, and our firm offers a free initial consultation to discuss your case. To schedule an appointment, please call us toll-free at 1-888-777-AUTO, or visit our website.
Attorney meetings by appointment only