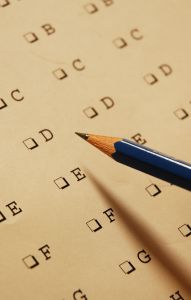 Last year, one out of every five drivers who took the GMAC Insurance National Drivers Test failed. The lack of driver knowledge may be one of the main reasons for the alarmingly high rates of car accidents in southeast Missouri and elsewhere. These statistics illustrated that nearly 37 million American drivers should probably not be operating a motor vehicle on our nation's roadways.
Our Dexter car accident lawyers understand the implications of these test results. As far too many drivers failed to meet the basic requirements to get a driver's license, it is no wonder our nation sees so many fatal car accidents each year. This is a serious problem that needs to be corrected with stricter laws, more driver education and more responsible driving habits.
According to the Kansas City Star, Missouri ranked among the top 10 states with the most knowledgable drivers through the results of this written driving test. However, even so, the Missouri Highway Patrol reported that there were 151,353 car accidents in Missouri in 2010: 821 people were killed and 54,875 suffered injuries in these crashes.
"The GMAC Insurance National Drivers Test has become the benchmark for America's driving IQ," said Scott Eckman, GMAC's chief marketing officer. "All Americans need a refresher course when it comes to rules of the road and it begins with education. We're hoping this year's GMAC Insurance National Drivers Test results will inspire drivers to arm themselves with the knowledge they need to stay safe."

Highlights of the GMAC Insurance Driver's Test:
• The national average was 76.2 percent in 2010 and increased to 77.9 percent in 2011.
• Nearly 90 percent of drivers could not identify what to do if they were approaching a steady yellow traffic light. (The correct answer: stop, if you're able.)
• Only a quarter of people knew the proper following distance (three seconds)
• Men scored better on the written test than women (80.2 percent to 74.1 percent)
• One in four women failed the test.
• The northeast region of the country scored the worst with 74.9 percent, while the Midwest scored the best with an average of 77.5 percent.
• Drivers ages 60 to 65 proved to be the most knowledgeable drivers, as they scored an average of 80.3 percent.
• New York and Washington D.C. returned the lowest test scores: one out of every three tested drivers in those areas failed the test.
The 2011 test was the seventh annual conduction of this survey: 5,130 licensed drivers between the ages of 15 and 65 were tested. The exam consisted of 20 questions that were taken from state Department of Motor Vehicles (DMV) exams.
Visit the GMAC Insurance website and take the National Driver's Test and see where your score falls among national and state averages.
At Aaron Sachs & Associates, P.C., our personal injury lawyers represent car accident victims in Cape Girardeau, Missouri and throughout the surrounding areas, including Jackson, Delta, Gordonville, Oak Ridge and Whitewater. To schedule an appointment for a free initial consultation, please call our office toll-free at 1-888-777-AUTO, or visit our website.
Attorney meetings by appointment only