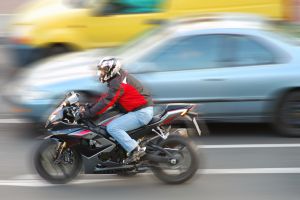 An Illinois man has pleaded guilty to driving under the influence of marijuana in connection with a 2010 collision that killed a motorcyclist. The Daily Herald reports that 22 year-old Michael Kainz could face a maximum sentence of 14 years in jail, but he could also receive probation if a judge determines that "extraordinary circumstances" impacted the case.
According to prosecutors, Kainz was traveling north on Addison Road in Addison at about 6:45 a.m. on the morning of November 30, 2010. When Kainz attempted to make a left turn onto Michael Lane, he pulled into the path of a southbound motorcycle. The rider, 46 year-old Robert Lash, was taken to a nearby hospital, where he later died of traumatic head injuries. Lash was not wearing a helmet at the time of the crash. (Note: Illinois is one of only three states that do not have a motorcycle helmet use law.)
At the scene, Kainz told police that he never saw the motorcycle coming. A blood test later revealed that Kainz had marijuana in his system, and authorities say he admitted he had smoked marijuana on the previous evening, approximately 12 hours before the collision.
"Driving with any amount of cannabis in your system is illegal," DuPage County State's Attorney Robert Berlin said when Kainz was indicted. "Cannabis can remain in your system for days after consumption and while the driver of a vehicle may not feel impaired, they will be held responsible and face significant consequences if it is determined that their driving caused injury or death to another and they had any amount of cannabis in their system at the time of the crash."
Kainz's sentencing hearing has not yet been set. He is scheduled to appear in court again in December.

How does marijuana use affect drivers?
• THC, the active ingredient in marijuana, is known to impact numerous bodily functions, including movement, judgment, memory, balance and coordination. It is the most commonly used illegal drug in the United States.
• According to the National Institute on Drug Abuse, "Evidence from both real and simulated driving studies indicates that marijuana can negatively affect a driver's attentiveness, perception of time and speed, and ability to draw on information obtained from past experiences."
• A 2012 study from Dalhousie University in Canada found that using marijuana can almost double your risk of being involved in a crash. The study, which examined more than 49,000 people involved in traffic collisions, found that drivers who had used marijuana within three hours of driving were twice as likely to cause accidents that resulted in serious injuries or deaths.
At Aaron Sachs & Associates, P.C., our personal injury lawyers represent the victims of Missouri motorcycle crashes. We serve clients in Joplin and throughout the surrounding areas, including Carthage, Webb City, Sarcoxie, Carl Junction, Lamar, Pierce City, Noel, Anderson, Pineville, Neosho, Nevada and Diamond. If you'd like to schedule an appointment for a free initial consultation, please call us toll-free at 1-888-777-AUTO. You can also visit our website to learn more about our firm, or to contact us online.
Attorney meetings by appointment only