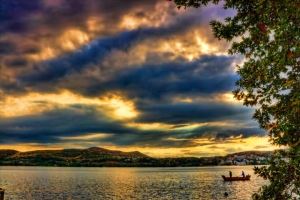 Memorial Day weekend is right around the corner, and it appears to be bringing summer temperatures right along with it. Our Kansas City personal injury attorneys know that Memorial Day has always marked the unofficial beginning of boating season, so it's safe to say that Missouri's lakes will be busy this weekend - and over the weekends ahead. If you're planning to celebrate the holiday on the water, we encourage you to make safety a priority, and in particular, to avoid boating under the influence.
Last weekend, a Wildwood woman suffered serious injuries in Osage Beach when two boats collided nearly head-on, and the Missouri State Patrol Marine Division says alcohol played a role in the crash. According to Lake News Online, the accident happened near the 4 mile marker of the Main Channel at 9:53 p.m. Friday. A Sea Ray runabout driven by 59 year-old Thomas G. Rainey of Lee's Summit ran over the top of a pontoon boat, causing serious injury to a passenger in the pontoon.
53 year-old Margaret K. Reavy was airlifted to University Hospital in Columbia following the crash. Both Rainey and the driver of the pontoon boat (49 year-old Daniel M. Reavy) were charged with boating while intoxicated.
Then, on Saturday night, another Missouri boater was moderately injured in a separate collision. In that accident, a Chaparral was attempting to turn west from a cove when it crashed into a Crownline. 65 year-old Jacqualin L. Zeller, a passenger in the Crownline, was taken to Lake Regional Hospital by ambulance. The driver of the Chaparral, 56 year-old Patrick T. Baumberger, now faces charges of boating while intoxicated and second-degree felony assault with a vessel.
This week is National Safe Boating Week, and the Missouri Highway Patrol urges you to be prepared for increased traffic on our state's lakes. The Patrol offered the following safety advice in a recent news release: "Please be courteous to others on the water, wear a lifejacket, and obey the law regarding safe operation of a vessel and no wake zones. Never operate a boat while intoxicated." The U.S. Coast Guard reports that a staggering 88% of 2010 recreational boating deaths can be attributed to failure to wear a lifejacket.

In addition, alcohol can be especially dangerous on the water, according to a study from North Carolina's Highway Safety Research Center. The study found that even boaters with low blood alcohol content are a threat to themselves and their passengers:
"Even with a blood alcohol content (BAC) of only 0.01%, the risk to operators and passengers increased 30% compared to individuals with no alcohol in their blood. The risk of death was more than 52 times greater when victims showed a blood alcohol content of 0.25%."
During the 2011 Memorial Day weekend, there were 10 boating accidents on Missouri lakes: one person was injured, and no one was killed. However, two people drowned over the holiday weekend, and 23 boaters were arrested for boating while intoxicated. Throughout the remainder of 2011, there were 166 boating accidents on Missouri lakes: 19 people were killed and 86 were injured in these accidents.
To learn more about boating safety practices, visit the Missouri Highway Patrol's Marine Division or DiscoverBoating.com.
The personal injury lawyers at Aaron Sachs & Associates, P.C. represent accident victims in Kansas City, Lee's Summit, Independence, Liberty, Blue Springs, and throughout the surrounding areas. To schedule an appointment for a free initial consultation, call us toll-free at 1-888-777-AUTO, or visit our website.

Attorney meetings by appointment only