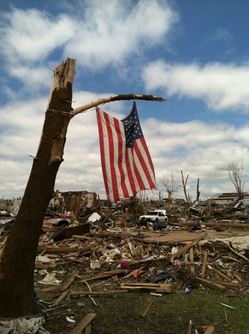 It's been a long, difficult year. The people of Joplin have proven their strength and resilience again and again over the last 12 months: here at Aaron Sachs & Associates, P.C., we're proud to be part of such a fine community. Today, we honor the first anniversary of the EF-5 tornado that tore through our city on May 22, 2011 at 5:41 p.m.
"That story is part of you now," said President Barack Obama, speaking at Joplin High's School's commencement ceremony last night. "You've grown up quickly in the last year. You've learned at a younger age than most that we can't always predict what life has in store for us. No matter how we might try to avoid it, life can bring heartache. Life involves struggle. Life will bring loss."
The storm lasted only 32 minutes, but 161 people were killed, making it the deadliest tornado to touch down in over 60 years. With wind speeds over 200 miles per hour, the tornado was nearly three-quarters of a mile wide and caused approximately $2.8 billion in damages. Over 7500 buildings and homes were destroyed.
But Joplin's people are made of tough stuff. A year ago, Joplin was faced with 3 million cubic yards of debris. Today, two-thirds of homes destroyed have been granted permits to rebuild. "Joplin is on the mend. We have a long road to travel, but the way everyone is joining together and unifying and chipping in, we're going to make it," Mayor Melodie Colbert-Kean said.
Indeed, by the end of April 2012, over 130,000 volunteers had provided 810,476.5 hours of service to rebuilding Joplin. As a result of the immense support from those both inside and outside of Joplin, our city has begun to heal. Today, the Day of Unity will mark groundbreakings at three new schools: Irving Elementary, East Middle School, and Joplin High School, reports the Joplin Globe.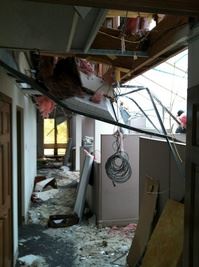 The ceremony celebrating the high school will be just one stop on this afternoon's Walk of Unity, which begins in the Wal-Mart parking lot at 15th Street and Range Line Road. A group will depart from there at 2:30 p.m. to walk the path of the tornado, approximately 3.7 miles. Those who wish to participate are invited to join the walk at any of its stops.
"We encourage all to participate in the Day of Unity activities in the manner they find most appropriate for them," said Joplin City Manager Mark Rohr. "Staying together as one has been significant in our success in recovery efforts, and it will continue to provide benefits as we work together and finish the rebuilding process for a stronger and better community."
Click here to access a map and a calendar of events for the Walk of Unity.