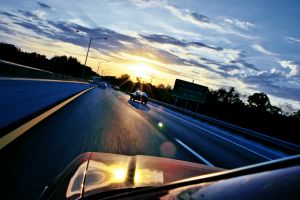 Rear-end accidents are one of the most common causes of motor vehicle related injuries. Often, these crashes are caused by distracted driving or excessive speed. Whether the impact causes the airbag to inflate or not, these crashes can result in whiplash, soft tissue injury, catastrophic injury, and even death.
Recently, a Wisconsin truck driver was convicted of three counts of vehicular homicide and one count of careless driving in connection with a rear-end crash in May 2010. The driver, Jason Styrbicky, had been looking for an energy drink that had fallen at his feet when the crash occurred. It's estimated that his eyes were off the road for about 16 seconds as he approached traffic that had stopped due to road construction ahead. By the time he looked up, it was too late to stop.
Styrbicky's truck crushed two cars in front of him, killing 50 year-old Pamela Brinkhaus and 24 year-old Keri Rasmussen. Rasmussen was eight weeks pregnant at the time of the crash. The truck also struck another semi-truck, which was transporting an estimated 12 million bees. About 1 million bees were released at the scene.
"This is such a profoundly tragic case," said attorney Mark McDonough, who represented Styrbicky. "I know that Jason is as sorry about what happened to these women and their families as a person can be. He certainly never intended to cause anyone any harm."
As Joplin car accident attorneys, we know that injuries resulting from rear-end collisions can take years to heal, and that they often involve costly and painful medical treatment. Beyond the physical impact, accidents can take a serious emotional and financial toll on those involved.

Compensation for car accident victims is governed by Missouri's tort law, which allows victims to recover full compensation from the party or parties at fault for the accident. The usual method is via a lawsuit; however, some car crash victims cannot receive full compensation in this manner. Unfortunately, it's common for the party at fault to be uninsured or indigent - or to escape their obligations by filing for bankruptcy.
Fortunately, the Missouri Tort Victims' Compensation Fund (the "Fund") was instated in 1987 to help fully compensate Missouri car accident victims. These are the circumstances that permit an accident victim to make a claim against the Fund:
• Victims who have obtained a final judgment in personal injury or wrongful death suit - but cannot collect the full judgment - may file a claim.
• Victims who settle for the maximum amount of the negligent party's liability insurance - but are not fully compensated financially by this amount - may file a claim
• Family members of a deceased uncompensated accident victim may file a claim.
Following a rear-end car accident resulting in personal injury, it is important to have an advocate on your side to help you deal with the difficult challenges you'll face. From seeking appropriate medical treatment to filing paperwork with insurance companies, having the assistance of a qualified Neosho car accident attorney can make a world of difference in getting you the compensation you deserve.
If you have been injured in a rear-end automobile or truck accident, the law office of Aaron Sachs & Associates, P.C. offers a free initial consultation. Submit our convenient and easy-to-use Do I Have a Case? form, or call us toll free 24/7 at (888) 287-1046. Aaron Sachs & Associates, P.C. have regional law offices in Springfield, Joplin, Columbia, Cape Girardeau, and Kansas City, Missouri. Practice is limited to personal injury, workers compensation and Social Security Disability. Attorney meetings are by appointment only.

Attorney meetings by appointment only