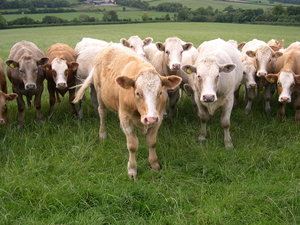 Today, commuters in northern Texas encountered an unusual roadblock during the morning rush hour. A tractor trailer hauling 89 head of cattle overturned on Interstate 35 in Dallas, obstructing northbound traffic and leaving several cows to roam the freeway.
The semi-truck crash happened around 1:15 a.m. According to the driver, some cattle got loose on the top level of the two-tier truck, which caused the load to shift and the trailer to lean. Law enforcement officials report that strong winds may have been a contributing factor as well. As the truck attempted to navigate a curve in the freeway, it rolled over on its side in the carpool lane and struck a barrier.
An animal rescue team was called in to assist the Dallas County Sheriff's department with the accident scene. About 40 cows were killed. Some died in the crash, and some had to be euthanized because of the extent of their injuries. A few either jumped or fell into the Trinity River below the interstate: crews were forced to use front-end loaders to remove the bodies. In addition, officials had to corral several wandering animals using portable fences, and the surviving cattle still inside the semi-truck had to be offloaded into other trailers.
Needless to say, these factors complicated the clean-up process: northbound I-35 was completely blocked until about 10:30 this morning. Several drivers were trapped in the backed up traffic for so long that they ran out of gas.
The semi-truck driver was uninjured. It is unclear if he will face any charges connected to the accident: some Dallas news affiliates are reporting that he was not properly licensed to drive the vehicle, and that he may have been under the influence of alcohol or drugs. His employer administered a drug test at the scene of the crash, according to Fox 4 in Dallas-Fort Worth.
Because of their massive size and weight, semi-trucks can be particularly vulnerable to rollover accidents. Recently, the National Highway Traffic Safety Administration (NHTSA) proposed new safety standards to address the problem of rollover crashes in large commercial trucks, motorcoaches, and other large buses. The new rules would require electronic stability control (ESC) systems to be installed as standard equipment in these vehicles. ESC systems use sensors and a microcomputer to monitor vehicle movement and steering.

Read NHTSA's notice of proposed rulemaking regarding ESC systems in truck tractors and large buses.

According to NHTSA, "ESC can help mitigate rollover incidents by using automatic computer-controlled braking, and also aid the driver in addressing severe understeer or oversteer conditions that can lead to loss of control." The Administration projects that requiring ESC systems would prevent 2,329 accidents and 649 resulting injuries, along with saving between 49 and 60 lives every year. Overall, the technology is expected to reduce rollover crashes by 56% and loss-of-control accidents by 14%.
"We've already seen how effective stability control can be at reducing rollovers in passenger vehicles--the ability for this type of technology to save lives is one reason it is required on cars and light-duty trucks beginning with model year 2012," said David Strickland, NHTSA Administrator, in a news release. "Now, we're expanding our efforts to require stability enhancing technology on the many large trucks, motorcoaches, and other large buses on our roadways."
The truck accident lawyers at Aaron Sachs & Associates, P.C. represent injury victims in Springfield, Joplin, Columbia, Cape Girardeau, and Kansas City, and throughout the surrounding areas in Missouri. To schedule an appointment for a free initial consultation, call us toll free at 1-888-777-AUTO, or visit our website.
Attorney meetings by appointment only