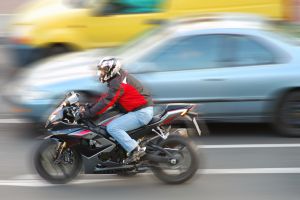 May is Motorcycle Awareness Month! Motorcycle riding season is here, and it's especially important that drivers exercise caution and share the road safely with these riders. Our Joplin motorcycle accident attorneys ask that all motorists be extra-cautious on our roadways, keeping an eye out for hazards, other vehicles and especially motorcycles. Also, importantly, we urge motorcyclists take the necessary precautions to increase their own safety.
"Motorcycle fatalities represent approximately 10 percent of all Missouri highway fatalities each year, yet motorcycles represent approximately 2.6 percent of all registered vehicles in Missouri," according to a press release from the Missouri Highway Patrol. "One of the main reasons motorcyclists are killed in crashes is because the motorcycle itself provides no protection in a crash."
Unfortunately, these small, two-wheel vehicles can also be easy to overlook. To avoid a crash, drivers of cars and trucks have to take the extra time to look twice before making a turn or switching lanes, simply to ensure a biker isn't traveling nearby. The majority of motorcyclists are law abiding drivers too, and they are entitled to the same roadway respect as any other motorist.
Drivers can also use the following safety practices to help avoid a collision with a motorcycle:
• Allow a motorcyclist a full lane width. Although it may seem that there is enough room in the traffic lane for a motor vehicle and a motorcycle, the motorcycle needs the room to maneuver safely. Do not share the lane.
• Always signal your intentions before changing lanes or merging with traffic. This allows motorcyclists to anticipate traffic flow and find a safe lane position.
•Allow more following distance -- three or four seconds - when following a motorcycle so the motorcycle rider has enough time to maneuver or stop in an emergency. In dry conditions, motorcycles can stop more quickly than cars.
To read more motorcycle safety tips from the National Highway Traffic Safety Administration (NHTSA), click here.

So, what can riders do to protect themselves? Wearing a helmet is an essential first step: after all, it's no secret that helmets reduce the risk of injury in the event of a crash. According to the Insurance Institute for Highway Safety (IIHS), "helmets decrease the severity of head injuries, the likelihood of death, and the overall cost of medical care. They are designed to cushion and protect riders' heads from the impact of a crash. Just like safety belts in cars, helmets cannot provide total protection against head injury or death, but they do reduce the incidence of both." Research has shown that helmet reduce prevents about 37% of motorcycle-related fatalities, and about 67% of brain injuries. In Missouri, state law requires all motorcyclists - regardless of age - to wear helmets while riding.
Riders should also remember to make themselves visible to other motorists. Make sure your headlights and brake lights are operational, and use reflective strips on both your clothing and your bike. Since it's common for a passenger-vehicle driver to overlook a motorcycle, riders must be prepared for the drivers around them to make unexpected maneuvers. The Motorcycle Safety Foundation (MSF) encourages the use of their "Search, Evaluate, Execute strategy (SEE) to increase time and space safety margins."
To read more from the MSF, click here.
If you or someone you love has been injured in a Missouri motorcycle accident, the Joplin personal injury lawyers at Aaron Sachs & Associates offer a free initial consultation to discuss your rights. To schedule an appointment, call us toll-free at 1-888-777-AUTO, or visit our website.

Attorney meetings by appointment only