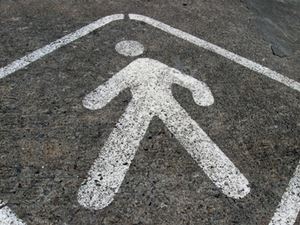 As Poplar Bluff car accident attorneys know, collisions involving pedestrians frequently cause injuries and fatalities. A recent public safety announcement from theMissouri Department of Transportation (MoDOT) is titled "Be Safe. Be Seen." The report contains statistics for pedestrian accident fatalities in Missouri through the majority of last year. MoDOT wants to remind Missourians, pedestrians and drivers alike, to pay close attention: know who's sharing the road with you.
At the end of September 2011, there were 54 pedestrian accident deaths in Missouri. This means the state ended the year with more pedestrian accident deaths than in 2010. In 2010, 57 pedestrians died from traffic accidents, and there were 68 fatalities in 2009. Higher numbers were reported in early 2011 than last year: there were 21 deaths during January, February and March, as compared to 9 in 2010 during the same period.
Be Safe. Be Seen.
Pedestrian accidents occur in both urban and rural settings. And remember, walkers and joggers aren't the only pedestrians out there: these accidents also involve kids, shoppers, and stranded motorists, for example. A pedestrian is any person on foot: it doesn't matter why they are on foot. Pedestrian accidents happen when a person on foot is in the area of a roadway or other area designed for vehicle traffic.
Both drivers and pedestrians are expected to follow traffic laws. But even beyond that, as a pedestrian, you should be especially observant, keeping in mind that drivers might not see you. Or they might see you and react too slowly. Or they might see you and overreact. So, it's extremely sensible to adopt defensive safety practices when you're on foot near a roadway.
If you are walking or running near a roadway:
* Walk facing traffic whenever possible
* Walk as far to the side of the road as you can
* Wear light colored and reflective materials
* Always cross at an intersection and follow traffic signals
* Don't assume a driver sees you and will stop
* Don't walk or jog with ear buds (so you can hear a car coming)
* Never enter traffic from between parked cars or other sight obstruction

If you are stranded, or have been in a minor accident:
*Turn on your flashers, headlights, or use flares
*Stay in your car and leave your seat belt on
* If you must leave your car, exit from the side farthest from the traffic
* Call *55 to alert MSHP that you need assistance

If you have pulled to the side of the road for an emergency or vehicle malfunction, make sure you are as far to the side of the road as possible, and that you turn on your hazard lights or other warning devices. TheMissouri State Highway Patrol has copies of "Send Police" signs at any of the troop headquarters. Troop E is on US 67 just north of Poplar Bluff and Troop G is on the Business Loop of US 60 just north of Willow Springs.
Being safe and seen as a pedestrian primarily requires being aware of your surroundings and the potential hazards. Anytime you're on foot near a roadway, take a minute and remind yourself what you should be watching out for.
If you are involved in a pedestrian accident and have questions about a personal injury claim, contact the Southeast Missouri pedestrian accident lawyers for a free consultation. You can reach our office at 1-888-777-AUTO.
Attorney meetings by appointment only