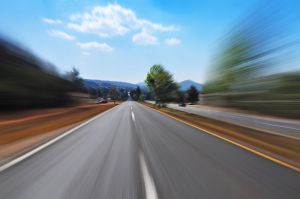 It sounds like a scene from a movie. A big-rig rear-ends a small passenger vehicle on a freeway bridge, crashing through the guardrail and into a creek 100 feet below. Meanwhile, the passenger vehicle, carrying a young mother and two children, is left hanging from the edge of the bridge. If you saw the national news yesterday, you know that on January 14, near Santa Barbara, California, this scene was very real. Our Kansas City, Missouri truck accident attorneys want drivers to understand that collisions involving commercial trucks can easily cause destruction, injury, and death: it's imperative that all motorists adopt safety behaviors to help reduce these risks. Saturday's accident in California offers an apt illustration of a worst-case scenario, demonstrating what the aftermath of these collisions can look like.
It happened around 2:40 p.m. Kelli Lynne Groves, a 36 year-old first grade teacher, was traveling north on Highway 101, accompanied by her daughters, 10 year-old Sage and 10 week-old Milo. Groves' BMW was rear-ended by a gravel truck, driven by 48 year-old Charles Allison Jr., and the force of the impact sent both vehicles out of control. The truck plummeted into Nojoqui Creek, 100 feet below the freeway, bursting into flames and killing Allison instantly.
Groves' BMW was left hanging sideways from the bridge: the California Highway Patrol reports that the vehicle had been forced onto the center of the concrete guardrail, which trapped all 3 occupants inside. "This was a complex situation," said Ray Navarro, chief of the Santa Barbara County Fire Department. "We had a vehicle with occupants trapped on the bridge and [hazardous materials] under the bridge." Almost 50 gallons of diesel fuel had spilled from the gravel truck into the creek.
(To see the unbelievable photographs of the accident site, click here.)
Thankfully, this story has a happy ending for the Groves family - in fact, it's nothing short of miraculous. While emergency rescue responders worked fiercely, a group of Navy Seabees happened by the accident site. Incredibly, they were carrying the very equipment needed to keep the vehicle from falling into the creek. Using a forklift, they were able to assist responders, steady the teetering BMV, and free all three occupants. Groves remains hospitalized, though her condition has been upgraded to fair, while 10 year-old Sage has been upgraded from critical to serious. 10 week-old Milo, treated for minor injuries, is already back at home with family: in fact, Milo slept through the entire ordeal, and was still sleeping when she was rescued. She never cried a single time.
What can we learn from this accident? There are several points worth noting.
• In a single second, a big-rig accident can cause devastation of the worst order.
While Groves and her daughters survived, their rescue is certainly one for the books. The story has received national attention for this very reason: it's not common to survive a collision like that (and it's even less common to escape without extensive, debilitating injuries).
• In the aftermath of any injury accident, it's crucial to remain calm and communicate clearly with emergency workers.
When the team that rescued the Groves family appeared on Monday's episode of "Good Morning America," they praised Groves for keeping her composure. They knew she was absolutely terrified, and yet they said she spoke calmly and clearly, cooperating with their instructions, expressing concern for her daughters, and later, advising them about contacting her husband. In this instance, Groves' calm demeanor may have saved her life. With her vehicle in such a precarious position, a sudden motion or a shift in weight could have been fatal. By staying calm, Groves was able to do what was necessary to ensure her safety, and the safety of her daughters.
• Wear your seatbelt, and secure infants and young children in appropriate car seats.
Groves and 10 year-old Sage were wearing seatbelts. And little 10-week old Milo, whose injuries were the least serious, was properly strapped in to a secure rear-facing car seat behind the driver's seat. The Highway Patrol says that the car seat's use, placement, and installation likely saved Milo's life, particularly given the massive impact of the collision.
• Allow big-rigs extra space.
Many truckers attempt to create a "safety zone" between their trucks and passenger vehicles in front them. Of course, as in this instance, not all truckers observe this practice, and drivers obviously can't control how closely they're being followed. What you can do, as a driver, is to use defensive practices to decrease the risk of being rear-ended. Don't pass a truck and then pull immediately in front of it: wait about 50 feet (5 car lengths) before merging back into that lane of traffic. Allowing that space creates a cushion for both you and the trucker: if you merge back right away and then find you have to break suddenly, the truck driver may not have enough time to react and could easily rear-end you.

It's an old cliché, but it still rings true for Missouri motorists: "the best defense is a good offense." As drivers, we can't completely protect ourselves from accidents like the one that happened to Groves, but we can take certain actions to reduce our risk, and to protect ourselves, our passengers, and drivers throughout our state. Be safe out there!
The attorneys at Aaron Sachs & Associates, P.C. serve truck accident injury victims in our five Missouri offices: Springfield, Joplin, Cape Girardeau, Columbia and Kansas City. Visit our website for more information, or contact our office (1-888-777-AUTO) to schedule a free initial consultation.

Attorney meetings by appointment only