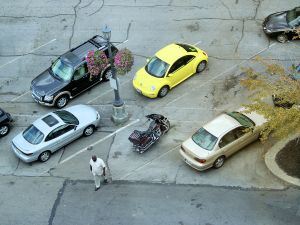 A back-over pedestrian accident is typically described as when a non-occupant of a vehicle (most commonly a pedestrian, but can also be a bicyclist) is struck by a vehicle that is traveling in reverse. Our Columbia, Missouri car accident attorneys know that these senseless accidents often cause serious injuries or death. By the end of February, the government is expected to finalize a set of new rules for auto makers that are designed to prevent these accidents. The rules would require the installation of backup cameras to improve drivers' rear visibility.
In March 2011, the U.S. Department of Transportation, held a day-long public hearing about this issue. They invited various industry leaders, public interest groups and victims to hear their different perspectives on the proposed safety measures from government officials aimed to help eliminate blind zones behind vehicles. These are the spots pedestrians often get lost in, causing a large number of back-over pedestrian injuries in Missouri. Young children and the elderly are the most likely to be the victims of these types of accidents.
"Every year, nearly 300 people are killed and 18,000 more are injured when someone, often a parent or grandparent, backs over them," said Transportation Secretary Ray LaHood. "To put an end to these tragedies, we have proposed a new safety rule and are seeking further public feedback."
The National Highway Traffic Safety Administration (NHTSA), a division of the U.S. Department of Transportation, originally proposed rearview visibility safety regulations in December of 2010. NHTSA proposed this rule as part of the Cameron Gulbransen Kids Transportation Safety Act of 2007. This Act was put into effect after a two-year-old, Cameron Gulbransen, was killed when being he was accidentally backed over by his father in the driveway of their very own house.
During the public hearing last March, NHTSA Administrator David Strickland stated that the goal of this hearing was to allow various industry groups, safety advocates, victims and other interested parties to voice their opinions and perspectives regarding the all-too-common back-over problem.
"Safety is our top priority and the steps we are proposing, with the public's help and input, will reduce back-over fatalities and injuries not only to children, but to the elderly, and other pedestrians," Administrator Strickland said.
The Gulbransen Kids Transportation Safety Act of 2007 requires that NHTSA issue a final ruling on their standard regulating rearview mirrors to improve a driver's ability to locate pedestrians behind their vehicle. This standard aims to reduce the number of vehicles backing over pedestrians when the vehicle is in reverse. In order to increase this visibility, officials rely on the technology of rear-mounted cameras that display an in-vehicle picture of what is directly behind the vehicle when it is in reverse.
Most of these accidents happen in off-public roadways where vehicles and pedestrians share the road, such as driveways and parking lots. A good number of these accidents involve a parent backing over a child. Children under the age of 5 represent more than 40% of these deaths.
The act is slated to result in the installation of backup cameras in vehicles in the next several years. Unfortunately, the mandates were delayed after the NHTSA bowed to industry pressure over costs and other concerns at the last public hearing. In early January, Secretary LaHood extended the deadline to February 29.
If you are dealing with a pedestrian accident in Fulton, Columbia, Ashland, Fulton, Boonville or the surrounding area, call 1-888-777-AUTO to schedule a confidential consultation to discuss your rights.
Attorney meetings by appointment only