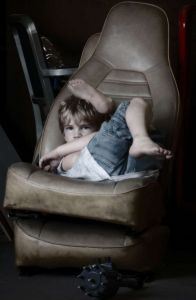 Parents want to protect their children: it's our strongest instinct and our top priority. If your children are still small, make sure you're familiar with child restraint guidelines, which are issued by the National Highway Traffic Safety Administration (NHTSA) to help protect your child in the event of a car accident in Webb City, Nevada and Anderson. The NHTSA now categorizes the use of various types of child restraints according to height and weight, rather than by type of child seat or age of the child. These new recommendations are part of an effort to keep up with the latest scientific and medical research, as well as the development of new child restraint technologies.
Our Joplin car accident attorneys remember the days when children advanced to new car seats strictly based on age. That's ancient science now. Kids are now to be placed in a car seat that corresponds with their size and weight. Now parents and caregivers are urged to keep their young passengers in each restraint type, including rear-facing, forward-facing and booster seats, for as long as they can before moving them to the next kind of seat.
NHTSA suggests that parents secure their children in rear-facing seats for as long as they meet the weight and height limits of that particular car seat. Rear-facing child safety seats reduce stress to the spinal cord and neck in the event of an motor-vehicle accident, which is essential for infants. The American Academy of Pediatrics concurs, advising that parents keep their children in rear-facing seats until the child has either turned two or exceeded the weight and height limits of the child seat. They now report that there is no need to hurry to advance a child to the next restraint type.
"Safety is our highest priority," said Transportation Secretary Ray LaHood. "The 'best' car seat is the one that fits your child, fits your vehicle and one you will use every time your child is in the car."
Here are the specific terms of Missouri's Child Restraint Law, RSMo 307.182:
• Children younger than 4 (or weighing less than 40 pounds) must be in an appropriate child safety seat.
• Children aged 4-7 weighing at least 40 pounds must be in an appropriate child safety seat or booster seat (unless they weigh more than 80 pounds, or are taller than 4'9").
• Children older than 8 are required to be secured by a safety belt or buckled into an appropriate booster seat.

All child car seats sold in the U.S. are required to meet federal child restraint safety standards: parents have numerous options to choose from. Here are some factors that you should consider when selecting a car seat for your child:
• The child's height.
• The type of vehicle the seat will be placed in.
• The child's physical development.
• The family's economics.
• The child's weight.
• The child's behavioral needs.
Be sure to review the safety seat's instructions from the manufacturer. Also, it is advised that you check your vehicle's owner's manual for information regarding the height and weight limits of a seat. The manual will also provide instructions for proper installation, whether by using a seat belt or by using the latch system.
For complete car seat instructions, visit the Insurance Institute for Highway Safety's website. They inform parents about the proper ways to keep your child safe in the event of an accident, and they can help you to choose the proper child safety seat for your young passenger. You can also visit Car-Safety.Org, which provides detailed information about different kinds of car seats and their various safety features.
If you or a loved one has been involved car accident accident in Joplin, Noel or Pierce City, call 1-888-777-AUTO today for a confidential consultation to discuss your rights.
Attorney meetings by appointment only