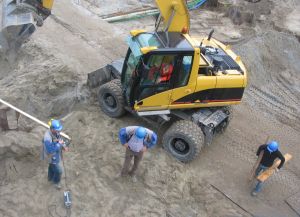 According to the Occupational Safety and Health Administration (OSHA), 4,114 American workers were killed while working in private industry in 2011. Of those fatalities, 721 - or 17.5% occurred in the construction industry. That's why OSHA officials have identified the "Fatal Four" leading causes of construction worker deaths in Missouri and nationwide. If these four causes of death were eliminated, OSHA reports, 410 workers' lives would be saved every single year.
The Fatal Four: Leading causes of death for Missouri construction workers
• Slips and falls. In 2011, slip and fall accidents accounted for the majority of fatalities in the construction industry (251 out of 721, or 35%). Numerous factors can contribute to these accidents, including icy or wet floors, debris, grease, and uneven walking surfaces. Depending on the circumstances surrounding the work environment, a slip and fall accident can result in multiple physical consequences, including broken bones, back injuries and traumatic brain injuries.
• Electrocutions. When employees work with or near electrical current, they are extremely vulnerable to serious injury. In fact, in all too many cases, employees are unaware of the electrical hazards that may be present in their work environment, especially in the construction industry. Electrocution can be caused by faulty wiring, power lines, or a simple lack of appropriate safety precautions.
• Struck by object. OSHA officials say struck-by hazards are present any time a worker could potentially be hit by an object. In the construction industry, these hazards are common: materials are often moved above people; employees commonly work from heights or elevated surfaces; and workers often use tolls that can create flying objects. Struck-by hazards can lead to head injuries, neck injuries, broken bones and fractures, and other kinds of physical trauma.

• Caught in/between accidents. Caught in/between accidents happen when a worker becomes squeezed, pinched or crushed between moving or stationary objects. They can happen under a variety of circumstances: when trenches collapse; or when limbs caught in machinery; or when workers are pinned by moving vehicles or other equipment.
Under Missouri law, all employers with five or more employees are required to carry workers' compensation coverage. However, employers in the construction industry are required to carry workers' comp if they employ one or more workers. According to the Missouri Department of Labor, "If you erect, alter, demolish or repair improvements you are regarded as a construction industry employer and are required to purchase workers′ compensation insurance if you have one or more employees." For more information about workers' comp in Missouri, click here.