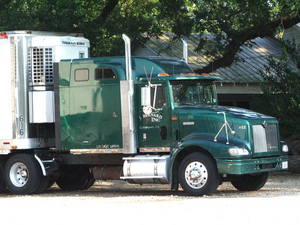 A Fayetteville woman was killed and a man was injured when their vehicle was pinned between two semi-trucks in a four-vehicle wreck on Interstate 40. According to KFSM News in Fort Smith, Arkansas, the crash happened around 12:30 p.m. A tractor trailer had come to a complete stop due to construction on the highway, and a small passenger vehicle - a Ford Escort driven by 39 year-old Justin Jackson - had stopped right behind it. While they waited, another semi-truck approached the line of traffic from behind and failed to stop for the congested traffic. It rear-ended the Escort, shoving the car into the other semi. A third semi then rear-ended the second truck.
Authorities say 33 year-old Kristin Jackson, a front seat passenger in the Escort, was pronounced dead at the scene. Justin Jackson was transported to a Little Rock hospital for medical treatment: the extent of his injuries is not known. None of the three truck drivers was injured in the collision. All lanes of eastbound and westbound Interstate 40 were closed for several hours after the crash.
Facts about accidents involving semi-trucks:
• On average, fully-loaded semi-truck has a gross weight of approximately 80,000 pounds. By comparison, an average passenger vehicle normally weighs less than 4,000 pounds. Because semi-trucks are so much larger and heavier than passenger vehicles, they can require about 40% longer than most passenger vehicles to come to a complete stop.
• The Insurance Institute for Highway Safety (IIHS) reports 3,413 people died nationwide in 2010 collisions involving semi-trucks, and an additionally 80,000 people were injured. Of those fatalities, only 14% were occupants of the semis, while 72% were occupants of passenger vehicles and 13% were pedestrians, bicyclists or motorcyclists.
• In fatal two-vehicle collisions where one vehicle was a semi and the other was a smaller passenger vehicle, 97% of the fatally injured were occupants of the passenger vehicles.
• According to the Federal Motor Carrier Safety Administration (FMCSA), the top five driver-related factors that contribute to fatal crashes are the following: speed; distraction or inattention; failure to stay in the proper lane; vision obscured; and failure to yield the right of way to another vehicle.
• In 18% of rear-end crashes where a semi-truck is the striking vehicle, at least three vehicles are involved in the crash. In contrast, when semi-trucks are rear-ended, three or more vehicles are involved in only about 5% of crashes, FMCSA data indicates: "Striking a passenger vehicle in the rear will not bring a heavy truck to a stop or even slow it appreciably. Thus the impact itself does relatively little to keep the truck from continuing on and involving other vehicles. Conversely, when a car hits a large truck in the rear, it usually does not move the truck."

The personal injury lawyers at Aaron Sachs & Associates, P.C. represent the victims of Missouri trucking accidents. If you've been injured in a collision involving a semi-truck, we may be able to assist you. Our lawyers work on a contingent-fee basis, and we offer a free initial consultation to discuss your case. To schedule an appointment, call us toll-free at 1-888-777-AUTO, or visit our website. Offices in Springfield, Joplin, Columbia, Cape Girardeau and Kansas City.
Attorney meetings by appointment only