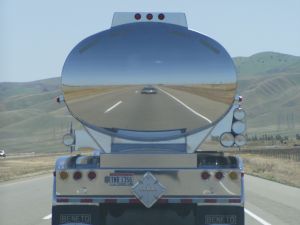 Most collisions between passenger vehicles and tractor trailers involve much more serious injury to the occupants of the passenger vehicle (over 90%). But, it would be unfair to assume that all such accidents are always caused by the driver of the tractor trailer. Springfield Missouri injury lawyers are following one such case of a tractor trailer accident near Brashear MO.
In this accident, a 2001 Hyundai SUV driven by Joseph W. Chatfield, 24, of LaBelle, crossed into the path of a 2010 International Tractor Trailer carrying a full load of high-octane gasoline. The resulting collision led to 8,000 gallons of fuel spilled all over the roadway, and a 12-hour road closure.
The Missouri State Highway Patrol crash report indicated that Chatfield suffered from a medical condition. However they did not indicate whether this condition led to the crash, or if the medication he was taking for the condition led to impaired judgment, which then led to the crash.
Chatfield, who was wearing a seat belt, sustained moderate injuries and was transported to Northeast Regional Medical Center by Adair County Ambulance. The tractor trailer overturned, coming to rest on its side on the south side of Highway 6. Fortunately, the road was closed before the fuel spill caused any other accidents, and a haz-mat team was called to the scene to clean up the roadway. The tractor trailer driver was not injured.