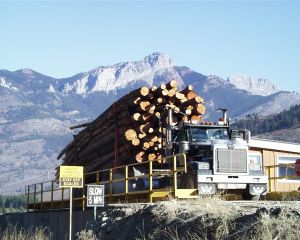 Although commercial trucking is one of the most highly regulated industries, Joplin truck accident lawyers have repeatedly seen that many truck drivers and trucking companies continue to flout the regulations, frequently with disastrous results. One of the most important federal regulations for truck drivers concerns the amount of time they are allowed behind the wheel in any given day. Truckers are limited to 11 hours of driving in a 14-hour work day, which includes breaks for meals or mechanical problems, before taking a 10-hour break.
This is a vitally important regulation, because a fatigued truck driver will not have the attention or the reflexes of a driver who is alert and well-rested. However, drivers who are in a hurry to get where they're going (as well as those who are worried about tight deadlines) can cause a blatant disregard of these limits--to the detriment of the public's safety.
In one such case that occurred in 2008, a trucker, Morgan Quisenberry, 54, was already driving for three hours past the legal maximum when he lost control of his tractor-trailer. He hit two passenger vehicles and crashed into the cab of a semi as well. The driver of the semi, Roger Reagan, managed to get out of the cab, but somehow became trapped in the burning wreckage. He died one hour and twenty minutes after being rescued.
Almost three years later, a federal court jury in Harrison, Arkansas, found Quisenberry's employer, Dunaway Timber Co. to be 75 percent at fault for the accident and Reagan's subsequent death. 25 percent fault was assigned to Quisenberry, but the company who hired him was ordered to pay the $7 million in damages.
Trucking Companies Can Be Legally Liable for Their Employee's Actions
As we mentioned, the interstate trucking industry is highly regulated with both federal and state regulations. These laws have been implemented over time, to try and put a stop to the exact practices that led to this horrific accident.
The jury found that the cause of Reagan's death stemmed from the trucking company's negligent hiring and management practices:
1. Dunaway Timber Co hired an unqualified driver. Quisenberry lied about his driving record when hired. He had had a recent accident before the timber company hired him, and twice had his license revoked for DWIs.
According to Robert Leflar, a professor at the University of Arkansas School of Law, negligent hiring and negligent supervision claims are common in trucking accident cases. "There are thousands of those cases around the nation," Leflar says. "The trucking company is held liable because it shouldn't have hired a negligent driver in the first place or should have fired him when it found out his deficiencies."
2. The company was also at fault for sending their driver on a route that takes at least 13 hours to complete--much longer than the legal maximum of 11 hours.
Quisenberry drove from Fordsville, Ky., to Terre Haute, Iowa, then back to Fordsville and then on to Harrison. Apparently, he'd only had about four hours sleep in twenty four hours when the crash occurred.
"Trucking companies are prohibited from hiring "unqualified" drivers, but some companies do so because those drivers are more likely to go along with violations," said Norita Taylor, spokesman for the Owner-Operator Independent Drivers Association.
If you are involved in a Joplin semi-truck or tractor trailer accident, it is in your best interests to hire a law firm with truck accident experience. You need attorneys who have a thorough knowledge of both Missouri and federal trucking regulations to represent you. Call the Joplin truck accident lawyers at Aaron Sachs & Associates, P.C. for a no-cost initial consultation about your truck accident, car accident or personal injury claim.

Attorney meetings by appointment only